What Are the Dangers and Uses of Gabapentin?
There are many uses of gabapentin, a prescription medication used to treat epilepsy as well as nerve pain caused by conditions such as shingles, diabetes, or after injuries. This substance is also occasionally prescribed to manage migraines. Originally developed by Parke-Davis in Detroit, Michigan, common brand names include Neurontin and Horizant.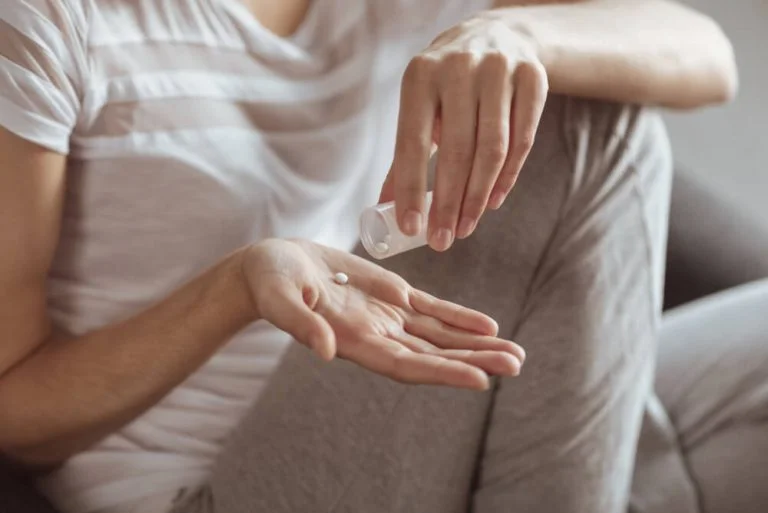 9 Minute Read
|
Published Oct 01 2023
|
Updated Oct 01 2023
Unfortunately, as is the case with many drugs developed with the intention of helping with the treatment of underlying conditions, the drug is being abused in a number of ways. The team at Better Addiction Care has created this brief overview of the drug. In it, we better explain the uses of gabapentin, the dangers present with its abuse, the mixing of it with other substances, and more.
Our team specializes in providing free resources for those in need of help, giving them a better chance in their battle against substance abuse.
Gabapentin belongs to a class of prescription medications called anticonvulsants. This is because it helps control seizures in people with epilepsy by reducing abnormal excitement in the brain. The drug comes as a capsule, tablet, extended-release (XR) tablet, and oral solution that can easily be taken by mouth.
The uses of gabapentin include the treatment of:
Epilepsy (seizure disorder)
Postherpetic neuralgia (complication from shingles resulting in burning pain that lasts long after the blisters and rash disappear)
Restless leg syndrome (an uncontrollable urge to move the legs)
Pain caused by diabetic neuropathy (tingling or numbness caused by nerve damage in people with diabetes)
Prevent and treat hot flashes in people with breast cancer or who have experienced menopause
Migraine headaches (most often used as an additional treatment to support other therapies)
It's important to note that gabapentin may help manage your illness, but it won't cure it. If you stop taking gabapentin, symptoms or seizures may return. Long-term use of gabapentin is the best way to feel the effects consistently.
There have also been some uses for the substance found in pets! Gabapentin has been prescribed to treat anxiety in cats, and gabapentin off-label uses in pets include seizures and pain in dogs and cats. As with any other prescription medications, make sure to follow your vet's instructions very carefully to ensure the safety of your pet.
With gabapentin long-term use, someone can make strides towards making their illnesses and underlying conditions less of a strain on their day-to-day life. Even so, some uses or improper consumption can make gabapentin dangerous to the user.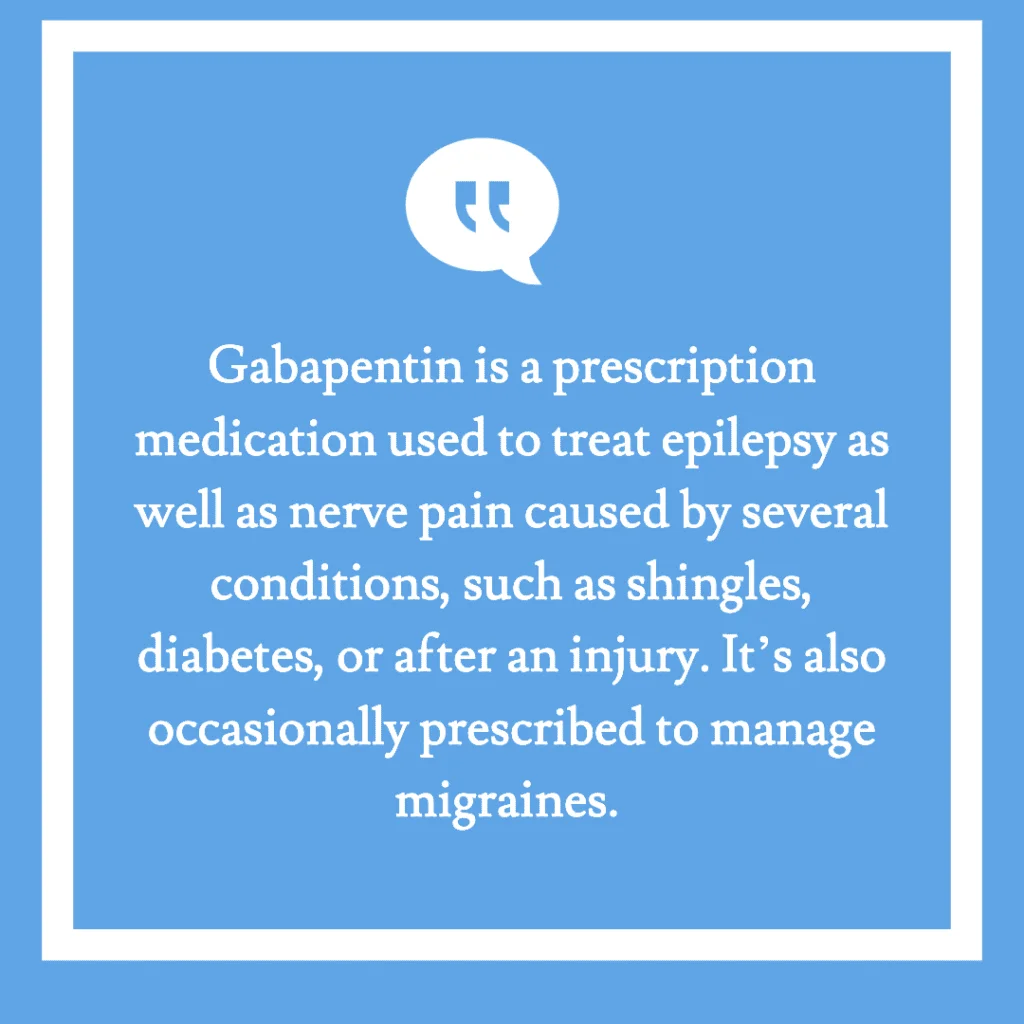 Dangers and Side Effects of Gabapentin Use
The benefits of the many uses of gabapentin have shown to be effective for people who suffer from any of the above-listed conditions. There are also benefits that have been seen in animals through gabapentin veterinary use. However, it's important to acknowledge that there is still an element of danger involved in its consumption.
It is possible for issues to appear as a result of allergic reactions. Issues can also be seen when there is a combination of the drug with other substances. For example, gabapentin and alcohol, when used together, can result in overdose and severe withdrawal symptoms.
Some of the more commonly seen issues include:
Aggressive, angry, or violent behavior
Anxiety
Diarrhea
Double vision
Excessive sweating
Hallucinations
Jaundice, a liver condition causing yellowing of the whites of your eyes or skin
Muscle pain or weakness
Nausea
Pain
Panic attacks
Profound drowsiness
Red, itchy, swollen, peeling, or blistered skin
Seizures
Sleep disturbances
Slurred speech
Stomach pain or nausea/vomiting that won't go away (possibly indicating pancreatitis)
Suicidal thoughts or ideation
Swollen throat, tongue, lips, face, or mouth
Tightness in your throat or chest
Trouble talking or breathing
Unconsciousness
Unusual bruises or bleeding
Wheezing
These issues are serious, and they can be a sign of something about to go very wrong with the user. Any symptoms should be treated as such, and seeking immediate medical help is advised. Calling for help could mean the difference that saves someone's life.
If someone truly wants to rid themselves of a prescription that has turned into dependence and addiction, they should seek the help of an addiction treatment team in their area. Finding the proper treatment that fits your own specific form of substance abuse, in addition to your personal, professional, and social necessities can be difficult. That is where our team comes in to help make the process easier.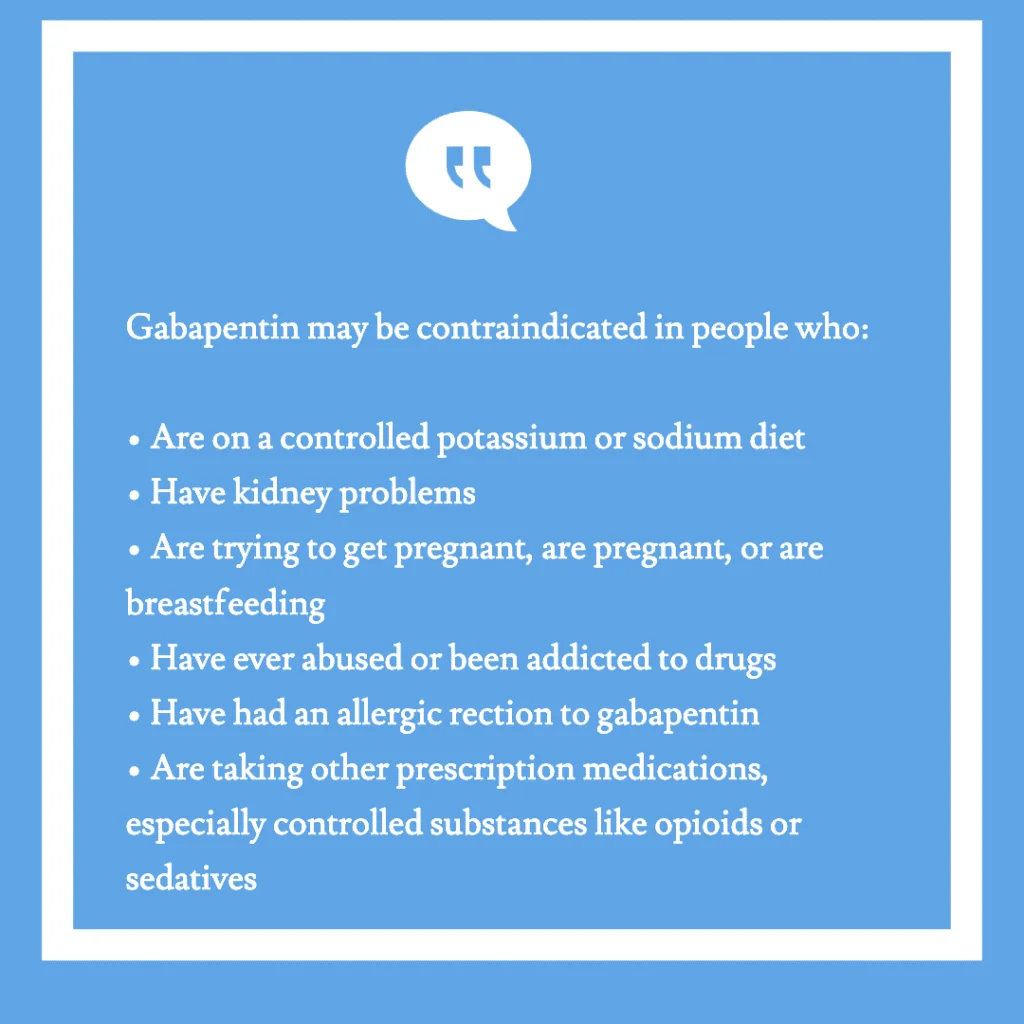 Find Drug Abuse and Alcoholism Treatment Centers
If you or someone you know is suffering from a dependence on the substance gabapentin, then it may be time to consider seeking professional treatment from a drug addiction rehab team. See our completely free online national directory of drug and alcohol abuse treatment facilities. In this directory, you will find many options for treatment in your area and find a suitable fit with your specifications in mind.
What if you want to learn more about addiction, recovery, a life of sobriety, and much more? Then be sure to take a look at our expertly written addiction treatment blogs to get insights directly from professionals in the field.
Our team even offers the ability to verify insurance for addiction treatment before enrolling in a program. This means regardless of the many uses of gabapentin which caused the addiction, treatment doesn't need to be a financial burden.
If you have any questions about our resources and how they can help you turn your life around for the better, be sure to give our team a call today to speak with one of our experts.
Related Readings
JAMA – Journal of the American Medical Association.
"Anticonvulsant Medications: Gabapentin (Neurontin) and Pregabalin (Lyrica). (2020)."
Retrieved on October 13, 2021
MedlinePlus.
"Gabapentin: MedlinePlus Drug Information. (2022)."
Retrieved on October 13, 2021
Lunn, M. P., Hughes, R. A., & Wiffen, P. J. (2014).
"Duloxetine for treating painful neuropathy, chronic pain or fibromyalgia. In Cochrane Database of Systematic Reviews."
Retrieved on October 13, 2021
Patorno, E., Bohn, R. L., Wahl, P. M., Avorn, J., Patrick, A. R., Liu, J., … & Franklin, J. M. (2017).
"Anticonvulsant medications and the risk of suicide, attempted suicide, or violent death. In JAMA – Journal of the American Medical Association, 317(17), 1-11. doi:10.1001/jama.2017.3413"
Retrieved on October 13, 2021
Pérez-Mañá, C., Castells, X., Torrens, M., Capellà, D., & Farre, M. (2018).
"Efficacy of gabapentin for the treatment of alcohol use disorder: A systematic review. In Frontiers in Psychiatry, 9, 627. doi:10.3389/fpsyt.2018.00627"
Retrieved on October 13, 2021