A relapse occurs when someone who has recovered from addiction returns to their former substance abuse habits. Some people are able to stop themselves quickly before they become addicted again, while others are at an increased risk of developing a dependency again. Relapse is always frustrating and dangerous to an extent, which is why it's important for those recovering from addiction to be able to recognize the signs of a relapse.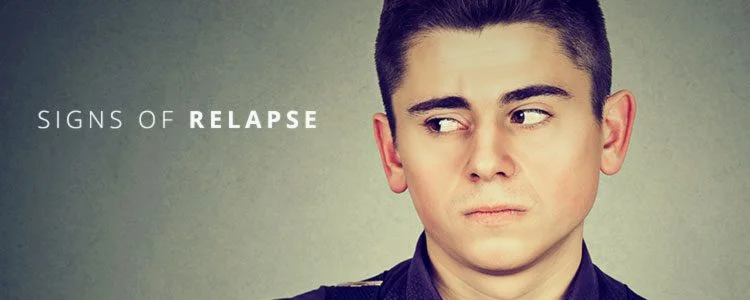 4 Minute Read
|
Published Oct 06 2023
|
Updated Oct 06 2023
There is a difference between a major relapse and a less serious incident. A slip is a less severe and possibly isolated incident of substance use. This is a setback that won't necessarily become a full relapse. The best way to handle a slip is to have a pre-existing plan in place to call a mentor or support group that will help prevent turning a slip into a relapse. It is likely that the person will have feelings of guilt, shame, and failure after a slip, and these feelings can trigger the urge to use them once again.
Warning Signs of Relapse
The best way to avoid slips and relapses is to have a prevention plan and the ability to recognize relapse warning signs within one's self. People in recovery should learn which questions to ask themselves and have an appropriate response to relapse triggers. There are nine warning signs of relapse common among most people.
Associating with people who enabled the addiction. Peers who encourage drug use are very difficult to resist and will hinder relapse prevention efforts.
Losing personal connections with positive people. If a person finds that they are arguing with friends and family, lying, resenting help offered, and spending less time with family, they are at a greater risk for relapse.
A loss of interest in old hobbies, which shifts their focus to negative feelings
Romanticizing past drug use and thinking only of the fun times
Believing you can use without falling back into addiction
Sliding back into negative habits and patterns and feeling defensive
Changes in attitude and behavior such as bouts of depression and loneliness
The appearance of withdrawal symptoms
Loss of belief in the addiction recovery process
If a person notices these signs of a relapse, they should have a plan of action that includes support to help them avoid a full relapse. In the event of a relapse, a person may have to return to rehab.
Find a Rehab for Drug Addiction
If you are experiencing relapse warning signs and need help now, contact BetterAddictionCare. Our compassionate addiction care specialists will speak with you confidentially and help you determine what sort of treatment you need. We can assist you with finding a cost-effective rehab near you. Call today or fill out our contact form to get help now.
National Institute on Drug Abuse. (2018).
"Drugs, Brains, and Behavior: The Science of Addiction."
Retrieved on September 09, 2020
Substance Abuse and Mental Health Services Administration. (2020).
"Treatment Improvement Protocol 42: Substance Use Treatment for Persons With Co-Occurring Disorders."
Retrieved on September 09, 2020
American Addiction Centers. (n.d.).
"Early Warning Signs of Relapse."
Retrieved on September 09, 2020
Gorski, T. T., & Miller, M. (2017).
"Relapse Prevention Therapy Workbook (Revised Edition). Herald House/Independence Press."
Retrieved on September 09, 2020
Witkiewitz, K., & Marlatt, G. A. (2013).
"Relapse Prevention for Alcohol and Drug Problems: That Was Zen, This Is Tao. American Psychological Association."
Retrieved on September 09, 2020
Marlatt, G. A., & Donovan, D. M. (2005).
"Relapse Prevention: Maintenance Strategies in the Treatment of Addictive Behaviors (2nd ed.). Guilford Press."
Retrieved on September 09, 2020
McKay, J. R. (2013).
"Treating Substance Use Disorders: Evidence-Based Practice (2nd ed.). Guilford Press."
Retrieved on September 09, 2020
UP NEXT
Part of Treatment Journey