Lunesta is a drug that is legally prescribed for the treatment of insomnia. A person is considered an insomniac if they are unable to fall asleep, have difficulty staying asleep, or can only sleep for short periods at a time. Available in tablet form, Lunesta is the brand name for eszopiclone, a sedative drug that works by calming brain activity. Whether you are abusing the drug or taking it over a prolonged period of time on a doctor's orders, there is a risk of dependence. This risk is greater for those with a history of drug or alcohol addiction. In some cases, a person may also experience other negative side effects and symptoms, including those that are associated with withdrawal from Lunesta.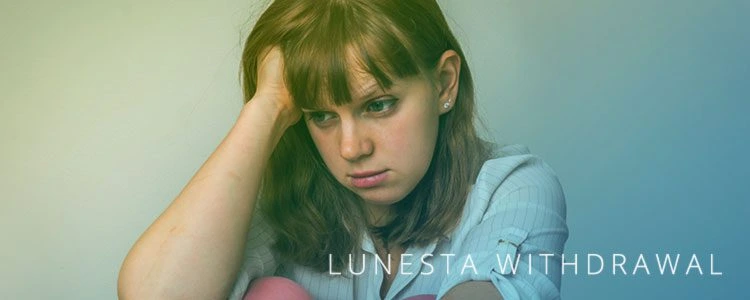 2 Minute Read
|
Published Jul 31 2023
|
Updated Oct 11 2023
A person is at an increased risk of withdrawal if Lunesta is taken for a long time or in high doses and then stopped suddenly. Lunesta withdrawal symptoms can range from mild to intense and vary in duration. Increased feelings of anxiety are a common withdrawal side effect, and some may also experience feelings of depression for a time after discontinuing its use. Some people may have unusual, bad, or vivid dreams while sleeping, or they may suffer from rebound insomnia. With rebound insomnia, your inability to sleep properly will once again become a problem, as you've become dependent on Lunesta and its effect on your brain to sleep. Often, your returned insomnia is more severe than it was prior to taking Lunesta. Withdrawal symptoms may also include stomach cramps, nausea, vomiting, and increased sweating. Because of your inability to get enough restful sleep, you may experience heightened fatigue, headaches, and even slight memory problems until you are no longer suffering from withdrawal.
While tapering off of one's dosage can help reduce the risk of withdrawal from Lunesta, it's important that you address your abuse of and subsequent dependence on the medication. In addition, you'll need to find the right treatment center to facilitate successful rehabilitation and addiction recovery. At BetterAddictionCare, our rehab and recovery network offers a host of cost-effective drug and alcohol treatment services at centers located nationwide. These facilities are staffed by professional, highly trained personnel to ensure that you receive individualized care that's both safe and effective. Not only will we use your personal pre-screening assessment to help find the best treatment center for you, but our client care specialists will help coordinate transportation and insurance requirements. To start healing, call today and speak with a counselor or sign up for our newsletter.