The effects of Vicodin are caused by its main ingredient, hydrocodone. This is a synthetic substance, created in a lab to imitate morphine. Vicodin binds to the brain's opiate receptors, which limit feelings of pain. If Vicodin is abused, the drug clogs up the brain's receptors. This leads to the brain sedating itself, causing slower speech and cognitive function. There are many significant side effects of Vicodin addiction as a result of depressing the central nervous system in this way. Respiratory issues are one of the most pressing concerns. The constant fluctuation of chemicals in the brain can also cause extreme swings from euphoria and depression. The long-term side effects of Vicodin on the brain and body can be avoided by seeking treatment as soon as possible.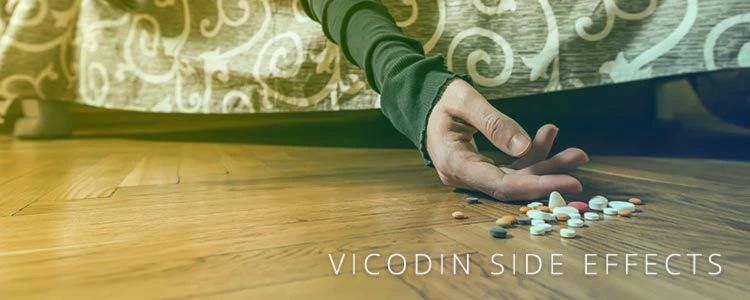 2 Minute Read
|
Published Aug 03 2023
|
Updated Oct 11 2023
Side Effects of Vicodin Addiction
Vicodin's most common side effects are drowsiness, a sense of relaxation, and minor dizziness. These symptoms are no real cause for concern. But some side effects of Vicodin addiction require medical attention, as they can indicate serious complications such as liver damage or issues with the nervous system:
Difficult breathing
Difficulty with urination and/or dark urine
Chills
Bleeding gums
Fast heartbeat
Nosebleeds
Sore throat
Yellow eyes or skin
Sores and ulcers
Eyelid puffiness
Skin rash
Long-term side effects of Vicodin can also include:
Increased perception of pain
Frequent sedation
Irritability and agitation
Anxiety and poor stress management
Problems with memory consolidation
Liver damage/failure
The long-term side effects of Vicodin have a severe impact on a person's health and well-being. If you recognize the signs of addiction in a loved one or in yourself, it is important to seek help before the problems get worse. Addiction is a disease that no one should have to face alone. The side effects of Vicodin addiction can be eased with the help of a medical professional.
Find Treatment for Vicodin Addiction
BetterAddictionCare understands that addiction recovery is a very personal process and the program must fit you in order to have the greatest chance of success. When you contact us, we will help you find a customized addiction counseling program within our recovery network that fits you and your unique situation. We believe you deserve the very best in treatment. Call today or fill out our contact form to get sober and start healing.
UP NEXT
Part of Vicodin Treatment