Drug and Alcohol Rehab Guide
There are various kinds of drug rehabilitation centers across the United States. From private practices to support groups, those in need of treatment will be able to find the most suitable facility so they can reach their recovery goals. However, the right treatment may seem frustrating, considering the thousands of facilities as well as the variety of treatment programs to choose from. A drug and alcohol rehab guide helps to narrow the options to begin the appropriate treatment at a qualified facility.

8 Minute Read
|
Published Oct 05 2023
|
Updated Nov 02 2023
Many factors come into play when choosing a rehab center and addiction treatment program. Primarily, you should look at the cost and the level of experience of the staff. If treatment is highly expensive and you want to avoid paying out of pocket, making sure the rehab accepts your insurance is vital. Also, double-checking the credibility, principles, and overall experience of the staff will paint a vivid picture of what you can expect from the rehab.
In addition, while using a drug and alcohol rehab guide, the location and social environment of the facility matter. Sometimes, you'll get better and faster results if you go to a rehab center that's in a different city or state, especially if the facility is clean and secure.
Do note that not all drug abuse treatment facilities have all the services or specialties you need for a complete recovery. Some establishments offer only one or two services, while others are equipped to handle every kind of treatment option. If you need help, you can get in touch with Better Addiction Care. Our advisory service will make sure to match your unique needs to the right drug rehab facility and services.
Your Options for Rehab
As previously mentioned, there are quite a lot of treatment options for rehab out there. Depending on the patient's condition, one or more rehabilitation options might be needed. Some of them include the following:
Medically Monitored Detox: Detox is typically the first step in the recovery process. In general, it has two components: helping patients flush the substance out of their system and managing or treating the withdrawal symptoms. In particular, substances such as alcohol, benzodiazepines, and opioids can produce life-threatening withdrawal symptoms, which is why those with severe addictions to these substances should seek out medical care to recover. It's also important to note that detox is not a complete addiction treatment program but rather just a phase in early recovery. After detox, the patient needs to address the cause of their addiction or abuse to ensure that the treatment "sticks" and to reduce the risk of relapse.
Inpatient Rehab: Inpatient rehabilitation is highly recommended for individuals with a long-term history of substance abuse, especially for those who have previously tried other treatment options with limited success. Inpatient rehab involves placing patients in a specialized facility where they can receive care from trained professionals in an environment that supports their recovery progress. This approach is particularly beneficial because staying at home can unintentionally trigger relapse in patients. Many individuals even choose to attend rehab facilities outside their city or state for this reason. Inpatient rehab is also ideal for patients with medical or mental health problems, as it provides comprehensive care and support that accelerates recovery.
Executive Rehab: Executive therapy is a specialized form of addiction treatment designed for high-functioning individuals, such as executives and professionals. This treatment option is tailored to meet the unique needs of busy, successful individuals who require discreet and confidential care. Executive rehab typically involves one-on-one counseling, cognitive-behavioral therapy, and other evidence-based treatments to address underlying mental health issues that may contribute to addiction. This treatment approach aims to promote recovery while allowing individuals to maintain their personal and professional responsibilities.
Outpatient Programs: Outpatient treatment programs are for those who need regular appointments with professionals to treat mental issues and physical ailments associated with drug abuse and overdose. This method of treatment is ideal for those who don't need intensive or 24/7 care. If the patient can function normally in their usual environments and need only occasional guidance, then outpatient treatment programs are the most affordable and effective.
The key thing to remember is that rehabilitation is a group effort. Along with your desire and willpower to get better, you'll also need the support of your family and friends as well as the expertise of professionals. The options for rehab are abundant, so do not settle with any treatment program.
Important Benefits of Rehab
It's safer and more effective to undergo rehab rather than attempt to recover alone. Detoxing without following medical protocols can be lethal. Withdrawal can also be painful and difficult to deal with without support. With professional help, you can ensure that you or your loved ones can recover fully with a reduced risk for relapse.
In addition, contrary to popular belief, rehab is not only for those who have hit "rock bottom." As soon as you start questioning yourself, as soon as you recognize that there is a problem, then that's the right time to seek treatment. The sooner you do, the sooner you can take back control over your life.
How Long Is Rehab?
The duration of rehab depends on the program the person is attending. Medical detox can be completed in about 7 days, while the longest programs can extend well beyond 90 days. Ultimately, the length of rehab depends on the severity of the person's addiction, as individuals with more severe substance use disorders require more intensive care.
Remember, though, that longer treatment periods aren't automatically more effective. Researching or viewing a guide to drug rehab can help determine your needs and expectations for treatment. Commitment on the part of the patient is a huge contributor to success, along with support from friends, loved ones, and competent professionals.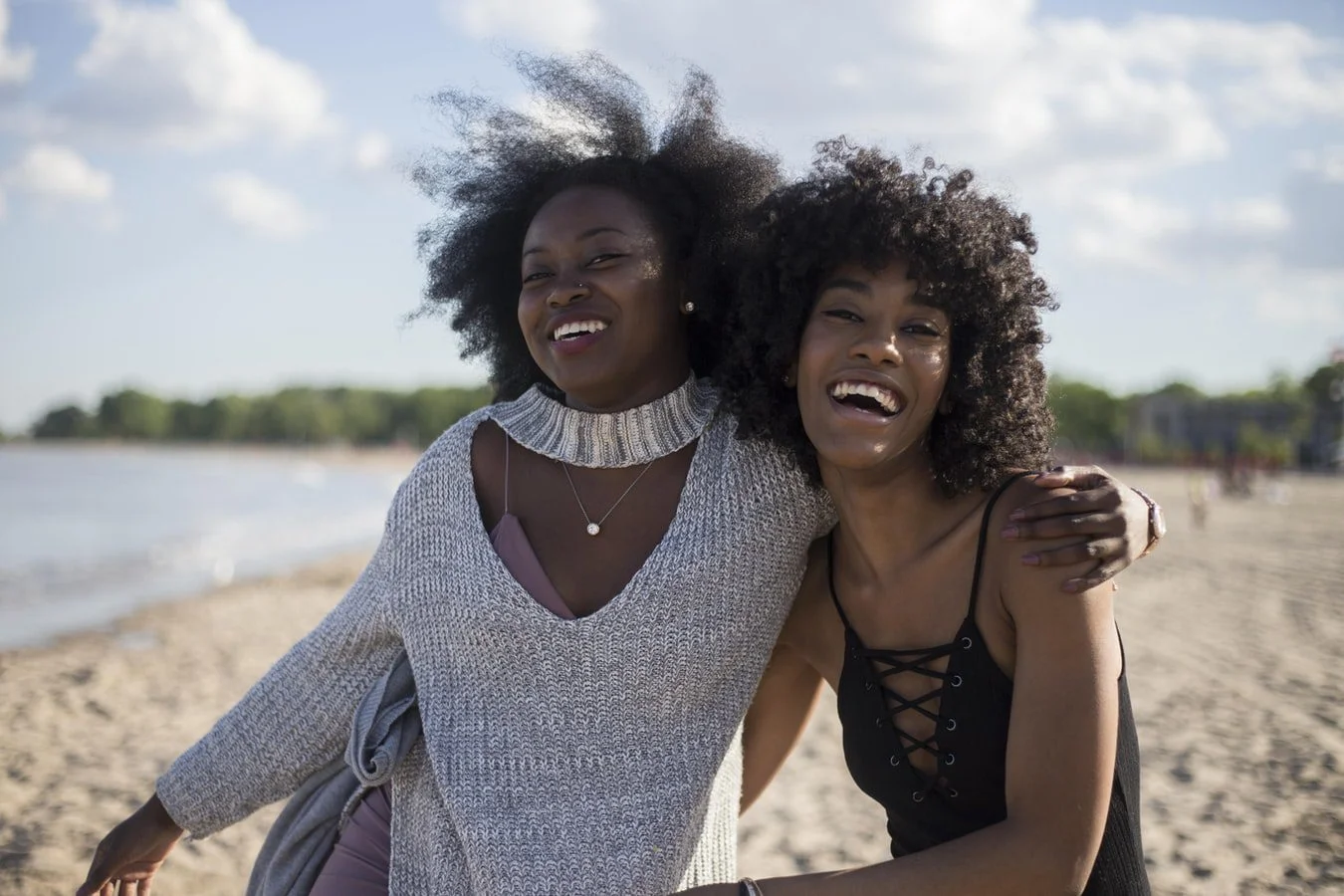 What's Next After Rehab Graduation?
Most people would say that recovering from drug or alcohol abuse is over after completing the treatment period. Graduating rehab is a significant milestone in the journey to recovery from addiction. It marks the completion of a comprehensive treatment program and signifies the beginning of a new, sober life. However, true recovery is a lifelong process that doesn't end after treatment, but instead begins after you leave the rehab facility.
You may also find comfort in support groups such as Alcoholics Anonymous (AA) or Narcotics Anonymous (NA). Sometimes, it helps to hear other people's stories so that you don't feel alone in your journey. Others in the recovery community may also be able to share effective coping strategies with you.
Better Addiction Care can help in this regard. Our rehab network includes not only various kinds of facilities and treatments but also after-rehab support. You can get in touch at any time if you need to change programs, find a new therapist, or any other form of assistance post-rehab.
Preparing With the Help of a Drug and Alcohol Rehab Guide
One of the keys to successful rehabilitation is that you have to be ready for it. It takes a lot of time – and sometimes a lot of money – so you have to be fully committed to making true progress. Once you've chosen the rehab facility and discussed your treatment options, you need to make the necessary preparations. This way, you don't have to worry about other matters, and you can focus on your recovery and treatment.
Among the most important preparations you have to make are those that involve your family, particularly if you have children and pets. There are many options available for child and pet care, including non-profit and private facilities. Of course, you can also ask your friends and family for help.
Better Addiction Care can also put you in touch with both inpatient and outpatient facilities that can make arrangements for you if you need it. Remember that your family will be affected by your rehabilitation, as well, especially if you're undergoing long-term treatment.
Other things you have to take care of include taking care of financial obligations such as bills or loans. Ask someone you trust to handle such matters or set up automatic payments. Get in touch with your lawyer and get things in official writing as well.
Emotionally and mentally, you should spend some time with your friends and loved ones before you leave for long-term rehab. You should also try to relax a couple of days before, which can include watching your favorite TV show or getting pampered at a spa. This way, your psyche is already "primed" for recovery. Some people also recommend journaling leading up to the days before you enter rehab.
Get Better Addiction Care Today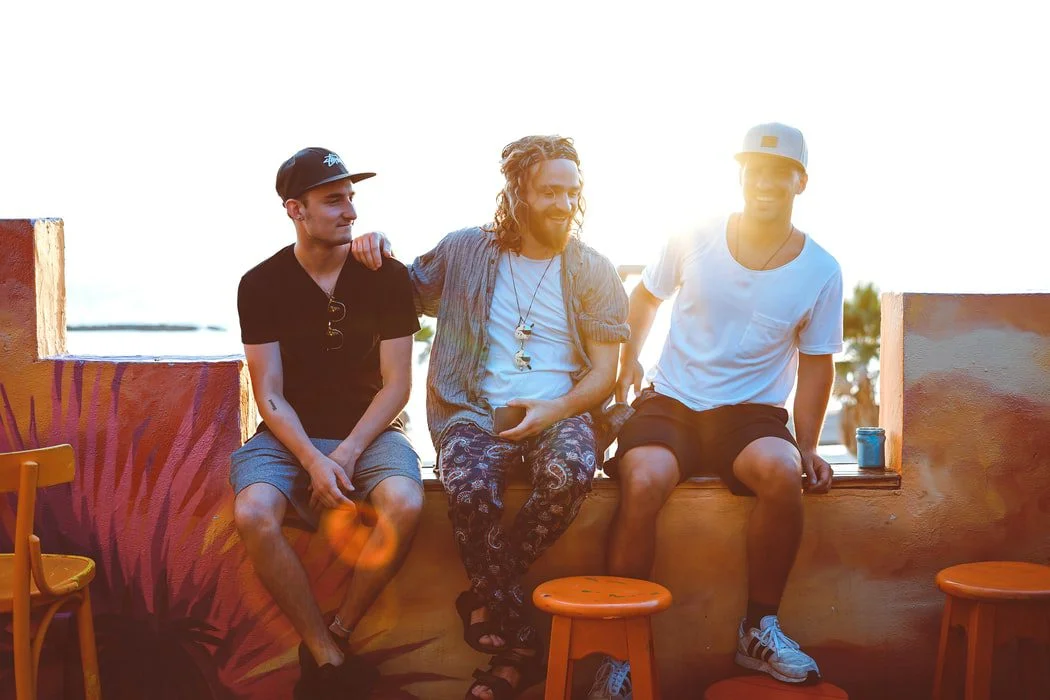 The journey toward recovery is a long and arduous one, but we here at Better Addiction Care can help make it a little easier. We hope this drug and alcohol rehab guide made it a bit easier to take that next step toward complete sobriety.
If you need help in your search, our team's national directory of drug and alcohol abuse treatment facilities includes numerous options for care, including information on thousands of professionals that provide the best drug and substance abuse rehabilitation. Rest assured that you will receive our utmost care and attention as we work with you to understand your needs and find the treatment you deserve.
Get in touch with us today to get free counseling, along with some crucial advice from the rehab guide to help you get started on your recovery. We're also happy to provide further information regarding substance abuse treatment and recovery in our addiction treatment blog.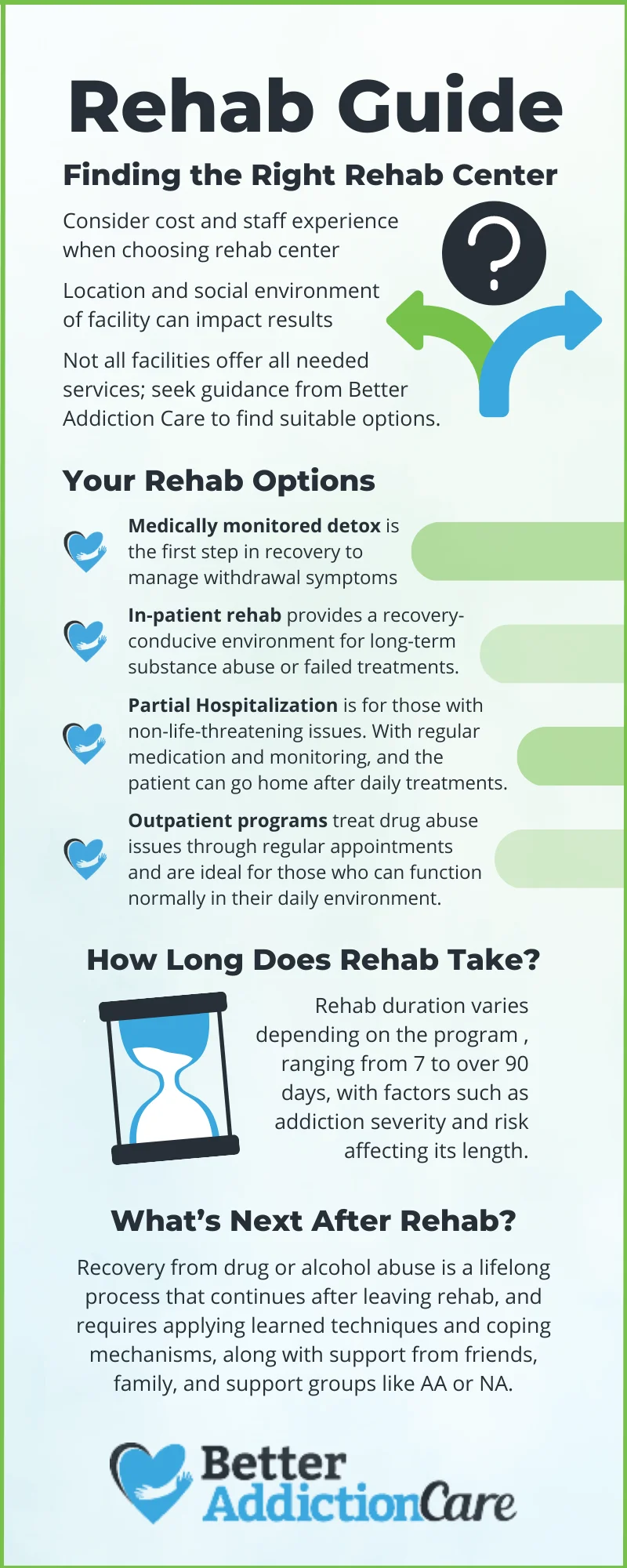 UP NEXT
Part of Rehab Guide