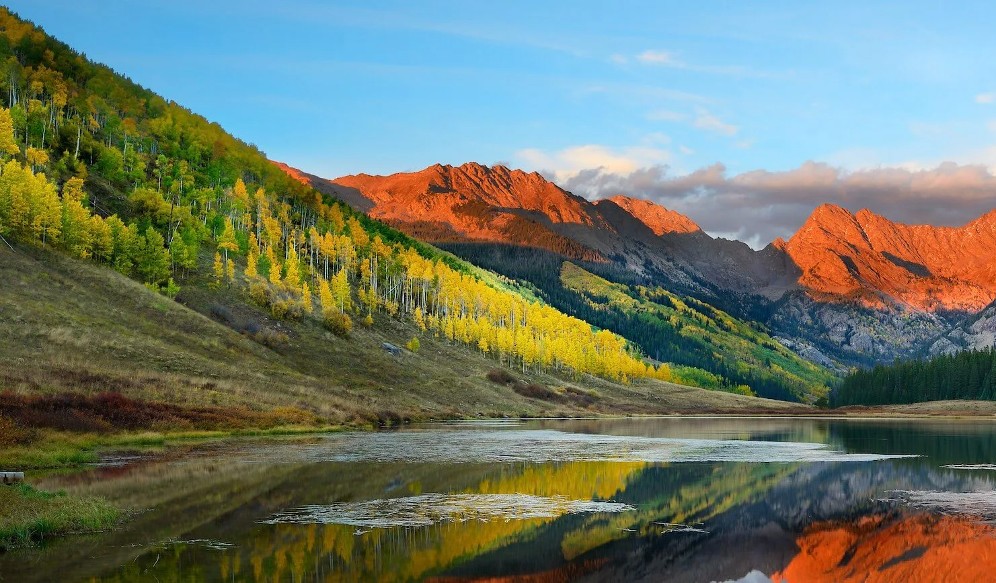 6 Minute Read
|
Published Oct 12 2023
|
Updated Nov 28 2023
Alcoholism, Drug Abuse, Mental Health, and Treatment in Colorado
Colorado Summary:
In Colorado, the rate of marijuana and cocaine use, alcohol consumption and binge drinking are far higher than the national average. Colorado legalized recreational marijuana in 2014, which may account for more people using cannabis across the state. The consumption of opioid painkillers for nonmedical reasons in Colorado is also higher than most other states in the nation.
While heavy use of drugs and alcohol is a major concern, the state of Colorado does provide a wide variety of options for residents in need of treatment for substance abuse and/or co-occurring mental health issues. The beauty of the Colorado landscape offers patients the opportunity to undergo recovery in a secluded, relaxed environment surrounded by nature. Colorado also has a number of payment-assisted rehab facilities in major metropolitan areas like Denver and Colorado Springs.
Quick Colorado statistics:
Colorado state population: 5.5 million

Over a quarter of a million people in Colorado need treatment for a severe mental illness

Approximately 11% of people in Colorado age 12 and over admit to using illicit drugs

Colorado ranks high among other states for its heavy use of alcohol, marijuana, cocaine and prescription painkillers
Alcoholism in Colorado
Compared to other states in the U.S., Colorado has higher rates of alcohol consumption and higher rates of binge drinking among adults aged 18-25. While the binge drinking rate is due in part to college-age young adults, Colorado also sees high rates of binge drinking among the state's Latino population.
Colorado has a few luxury rehab centers and a number of payment-assisted facilities for alcohol abuse and addiction treatment. Located on a secluded property outside of Colorado Springs, The Recovery Village at Palmer Lake specializes in treatment for alcoholism in addition to substance abuse. Its luxury accommodations include an outdoor recreational area, walking trails, and a fitness center offering yoga classes. The Recovery Village has both an inpatient and outpatient program and aftercare support, which involves making a plan for recovery when transitioning out of rehab.
Arapahoe House - New Directions for Families is a payment-assisted facility located in the Denver suburb of Littleton that provides treatment for alcoholism. Arapahoe House's clinic‑based outpatient program has 11 locations and 20 quality services for adults, youths and families, making it the largest provider of substance abuse treatment in Colorado. This nonprofit facility is open to women and accepts Medicaid and other health insurance plans.
Drug Abuse in Colorado
Colorado ranks high among states nationwide when it comes to the heavy use of marijuana, alcohol, cocaine and using opioid painkillers for nonmedical reasons. In recent years, Colorado became one of a handful of states that legalized the sale of recreational marijuana. Outside of alcohol, marijuana is the primary drug abused statewide.
In addition to offering treatment for alcoholism, The Recovery Village at Palmer Lake near Colorado Springs also provides care and support for substance abuse and drug addiction. Known as one of the best luxury treatment facilities in the state, Recovery Village provides medically-assisted detox, including Methadone Maintenance Treatment or ORT (Opiate Replacement Therapy) for patients addicted to opioids like heroin, codeine, Oxycontin, and Percocet, among others. The facility provides separate housing for men and women and is open to adults and young adults.
For those seeking a payment-assisted rehab center, Centennial Mental Health Center specializes in substance abuse treatment and is geared towards individuals age 11 and older. Located in Fort Morgan in northeast Colorado, Centennial Mental Health Center provides individual therapy, group therapy, a women's substance abuse group, DUI education and a special group for substance-abusing pregnant women. The facility accepts Medicaid, Medicare and has other low-cost treatment financing options.
Mental Health in Colorado
Every year in Colorado, about 260,000 adults and children need treatment for a severe mental illness, which includes major depression, bipolar disorder, schizophrenia and serious emotional disturbances. Colorado's suicide rate is the sixth highest in the nation.
In Colorado, there are both luxury treatment centers in secluded parts of the state, as well as payment-assisted facilities for those suffering from a mental illness or co-occurring substance abuse and mental health problems.
As mentioned above, The Recovery Village at Palmer Lake (outside of Colorado Springs) is a luxury facility that treats those with drug abuse issues and alcoholism in conjunction with a mental health disorder. The Recovery Village helps patients who are dealing with issues like depression, anxiety and bipolar disorder, amongs.
While luxury facilities that specialize in mental illness treatment are limited in Colorado, there are an array of payment-assisted centers across the state. AspenPointe is a mental health treatment center located in the small community of Bailey, southwest of Denver. The facility offers a variety of therapy modalities, including Cognitive Behavioral Therapy (CBT), Trauma Therapy, Group Therapy, Nutrition Therapy and Creative Arts Therapy. Creative Arts Therapy can help patients in recovery express thoughts or feelings in a different way outside of traditional therapy.
Does Medicaid cover rehab for alcoholism and alcohol abuse in Colorado?
In Colorado, there are many rehab facilities and treatment centers that accept Medicaid and other health insurance plans as a form of payment. Due in part to the Affordable Care Act, health insurance providers must cover the basic treatment of drug and alcohol dependence recovery. This mandate includes Medicaid, which residents can qualify for by meeting certain requirements like earning less than 133% of the federal income poverty level.
One such rehab center that accepts Medicaid is the ARTS University of Colorado Health Center - Parkside Clinic in Denver. This public rehab facility focuses on providing treatment for addiction, drug abuse and addiction. The Parkside Clinic offers a number of services to residents in the greater Denver metropolitan area, including a medication-assisted treatment program and dedicated resources for women and those involved in the criminal justice system who are seeking treatment for substance abuse.
What types of rehab centers are there in Colorado?
Colorado has many different types of rehab centers and substance abuse treatment facilities located throughout the state. These include 30-, 60- or 90-day medically-assisted detox or inpatient rehab centers in big cities like Denver and Colorado Springs, as well as state-financed outpatient treatment programs in smaller communities in both western and southwest Colorado. Even for those in need of a payment-assisted rehab facility, the natural beauty of many parts of the state provides a calming and serene environment for treatment.
One option for those seeking an affordable rehab center in a secluded area is Harmony Foundation in Estes Park (located north of Boulder). Situated in the Rocky Mountains on a 43-acre campus, Harmony is a state-of-the-art nonprofit facility that focuses on a holistic approach to addiction recovery. Harmony Foundation is known as one of the longest-running and most successful substance abuse treatment centers in the world.
Colorado: Looking Ahead
Due to the legalization of recreational marijuana in 2012, Colorado has seen many changes to its drug and alcohol laws. The state has now established a "too high to drive" impairment level for drivers who test over a certain THC limit in their bloodstream. Colorado is also known for its heavy enforcement of drunk driving laws.
On the mental health side, Colorado is taking steps to provide greater care and access for mental health patients and those at risk for suicide. In November of 2016, voters rejected a "ColoradoCare" amendment, which would have established a single-payer health care system in the state. While this law did not pass, it's clear that state legislatures are actively working to increase funding for mental health care in Colorado through several planned initiatives.
Regardless of new laws that may impact health care in Colorado in the future, there are many resources for those seeking help for substance abuse or mental health problems. Colorado has some of the best rehab facilities that provide top-level treatment for recovery, even for those with financial need.
Treatment Centers And Meetings in Colorado