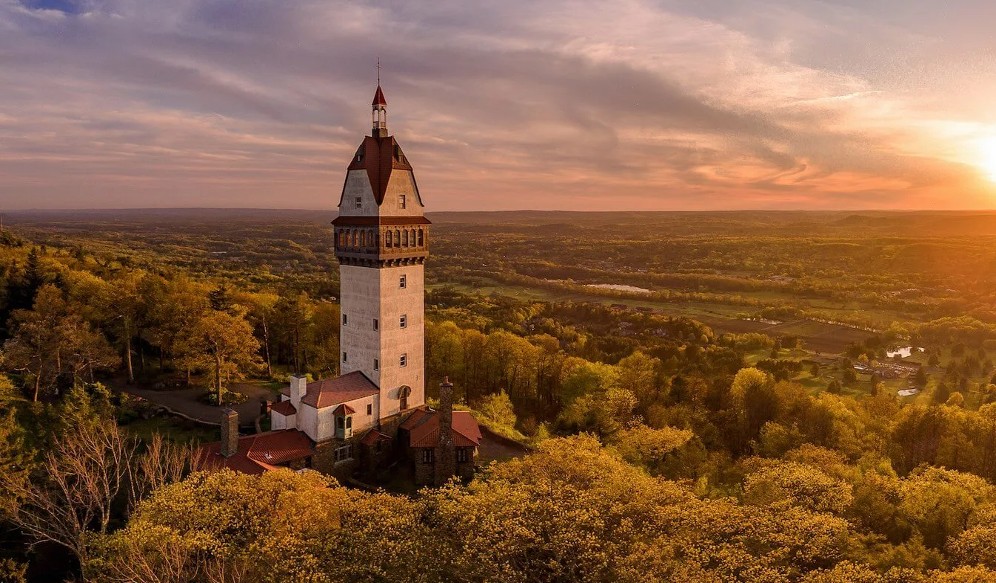 7 Minute Read
|
Published Oct 12 2023
|
Updated Nov 28 2023
Alcoholism, Drug Abuse, Mental Health, and Treatment in Connecticut
Connecticut Summary:
Connecticut deals with a number of substance abuse issues and co-occurring mental health problems, particularly among young people. Rates of heavy drinking are higher than the national average and prescription drug abuse is also on the rise. Connecticut has also seen an increase in residents being hospitalized for mental health disorders.
However, Connecticut has quite a few treatment facilities and rehab centers for those struggling with substance abuse or mental health issues. There are luxury facilities that provide top-rated addiction treatment, as well as payment-assisted rehab centers that offer comprehensive recovery options in smaller communities and bigger cities like New Haven and Hartford.
Quick Connecticut statistics:
Connecticut state population: 3.5 million

An estimated 6.8% of residents in Connecticut abuse alcohol, while nearly 3% of residents abuse or are dependent on illicit drugs

More than 100,000 adults in Connecticut are dealing with a serious mental illness

Over 4% of Connecticut youths ages 12 to 17 have used prescription pain drugs for nonmedical reasons in the past year
Alcoholism in Connecticut
Connecticut's drinking rates are increasing and are currently above the national average. Between 2005 and 2012, binge drinking in the state rose 14%, with the largest increase among women drinkers. Connecticut also has the highest rate of youths who consume alcohol in the country.
In Connecticut, there are several rehab centers that focus on treating alcoholism and substance abuse.
One option for alcoholism treatment is Aware Recovery Care (ARC) in Madison, located outside of New Haven. Aware Recovery Care boasts a high success rate for addiction recovery and offers both an inpatient program and in-home treatment for residents in Connecticut. The rehab center focuses on long-term recovery and provides a number of therapy modalities, including Cognitive Behavioral Therapy (CBT) and Experiential Therapy, in which patients work through subconscious issues by participating in real-time experiences. Aware Recovery Care is designed for addicts making the transition out of rehab who are in need of ongoing, personalized care.
Located in Middletown, Connecticut Valley Hospital - Addiction Services is a payment-assisted rehab center that accepts Medicaid, Medicare, private health insurance and has other low-cost treatment payment options. The facility has an inpatient program and also offers treatment for co-occurring substance abuse and mental health problems, as many people suffering from addiction may also be facing issues like depression, anxiety and bipolar disorder. Connecticut Valley Hospital provides medically-assisted detox and Methadone Maintenance Treatment or ORT (Opiate Replacement Therapy), which involves the use of methadone as a substitute for someone addicted to opioids. The facility also offers trauma therapy, which addresses traumatic experiences from an addict's past that may be affecting their present-day struggles and issues.
Drug Abuse in Connecticut
Heroin is becoming an increasing problem in Connecticut. Heroin-related deaths have skyrocketed in recent years, along with deaths involving fentanyl, a prescription opiate. In Connecticut, drug-induced death is currently the leading cause of injury-related death in the state.
In the state of Connecticut, there are both luxury and payment-assisted rehab facilities for drug abuse and addiction. Aspire Recovery in Fairfield is a rehab center that offers luxury accommodations and high quality treatment for those struggling with substance abuse. The facility has an inpatient program, an outpatient program and an intensive outpatient program. Intensive outpatient programs are designed for residents who need a structured treatment program but choose to live at home due to work, school or family responsibilities. Aspire Recovery is a pet-friendly rehab center that caters to working professionals seeking to overcome drug abuse and addiction.
Community Health Resources - CHR is a non-profit, payment-assisted rehab center in Putnam, a small residential community northeast of Hartford. The facility accepts both Medicaid and Medicare and provides other low-cost or state-financed treatment payment options. Community Health Resources offers a comprehensive approach to addiction treatment and recovery, which includes wellness programs, mental health services, in-home intervention assistance and group therapy.
Mental Health in Connecticut
The state of Connecticut has seen an increase in patient hospitalizations for mental health disorders over the past few years. According to data from 2012, mental disorders were the number one health issue that lead to hospitalization for children ages 5 to12, surpassing respiratory problems and all other ailments.
Connecticut has several facilities that specialize in mental health treatment. Located in New Canaan, Silver Hill Hospital is a luxury rehabilitation center that treats psychiatric and addictive disorders. The facility is open to adults and adolescents and offers a number of comprehensive recovery programs. Silver Hill Hospital has a campus-like setting in the Connecticut countryside, allowing participants the chance to focus on overcoming mental health issues in a calm, serene environment.
For those in need of a payment-assisted treatment center, Backus Center for Mental Health is a private facility in Norwich. The Backus Center is open to men, women and young adults and accepts Medicaid, Medicare, military insurance coverage and private health insurance. Serving residents in eastern Connecticut, the facility has both inpatient and outpatient programs and provides individual and group therapy. The Backus Center also offers treatment for co-occurring mental health and substance abuse issues.
What kinds of rehab centers are located in Connecticut?
Connecticut is home to a variety of rehab centers for drug and alcohol addiction treatment, including luxury facilities and state-run, low-cost programs for residents with financial need.
One option for addiction treatment in the state of Connecticut is The Step Up Inn, a private facility in West Haven. The Step Up Inn is a luxury sober living community that provides high-quality aftercare support. This substance-free home is open to women and caters to working professionals who are trying to overcome addiction and rebuild their lives. The Step Up Inn is a dry residence that offers in-house group and individual counseling, a weekly life skills group, yoga classes and massage therapy.
Other types of rehab centers include inpatient drug rehab programs, in which residents stay at a facility for a period of 30, 60, or 90 days. Many inpatient (or residential) rehabilitation centers provide medically-assisted detox, a proven way to help addicts overcome a chemical dependency on drugs or alcohol. Inpatient rehab centers also give participants the opportunity to focus on recovery away from the stress and demands of their normal life.
For those who decide not to enroll in an inpatient program, Connecticut offers a number of outpatient rehab programs or intensive outpatient programs. Intensive outpatient programs typically provide a structured treatment program for people who need to live at home while in rehab due to work, family or school commitments. Many recovering addicts transition from an inpatient treatment facility to an outpatient program that offers aftercare support, which can involve making a plan for maintaining a substance-free life, continued counseling or 12-step meetings.
Does Medicaid cover drug rehab in Connecticut?
There are multiple rehab centers in Connecticut that accept Medicaid or have other state-financed treatment payment options. In order to be eligible for Medicaid, Connecticut residents must meet certain requirements.
Medicaid patients must either be a parent, pregnant, under the age of 19 or an adult earning less than 133% of the federal poverty level. Senior citizens over the age of 65 automatically qualify for Medicaid (or Medicare) if they receive Supplemental Security Income. There are several facilities in Connecticut that accept Medicare rehab coverage.
The Connecticut Medicaid programs provides a list of participating providers that residents can access online or by calling a hotline. Covered Medicaid services for both substance abuse and mental health issues include inpatient services at a hospital, detox services at a hospital or detox center, crisis services, day treatment programs, individual therapy, group therapy, family therapy and Methadone treatment services.
Connecticut: Looking Ahead
Connecticut is presently focused on combating its opioid epidemic and reducing the abuse of prescription drugs that is a serious issue in many areas of the state. Lawmakers have enacted a state-run Alcohol and Drug Policy Council to address new legislation and solutions that aim to dramatically reduce the increasing numbers of overdose deaths across the state. Connecticut is also working on a state substance abuse plan that includes comprehensive strategies for preventing, treating and eliminating alcohol and drug abuse problems.
In Connecticut, those struggling with substance abuse or mental health issues have an array of treatment options available to them. There are multiple resources and rehab programs open to residents dealing with these problems, regardless of financial need. Connecticut's Medicaid program has several providers that accept low-income residents and there are many inpatient and outpatient services for drug abuse, alcoholism and mental health.
Treatment Centers And Meetings in Connecticut
Local Rehabs in Connecticut