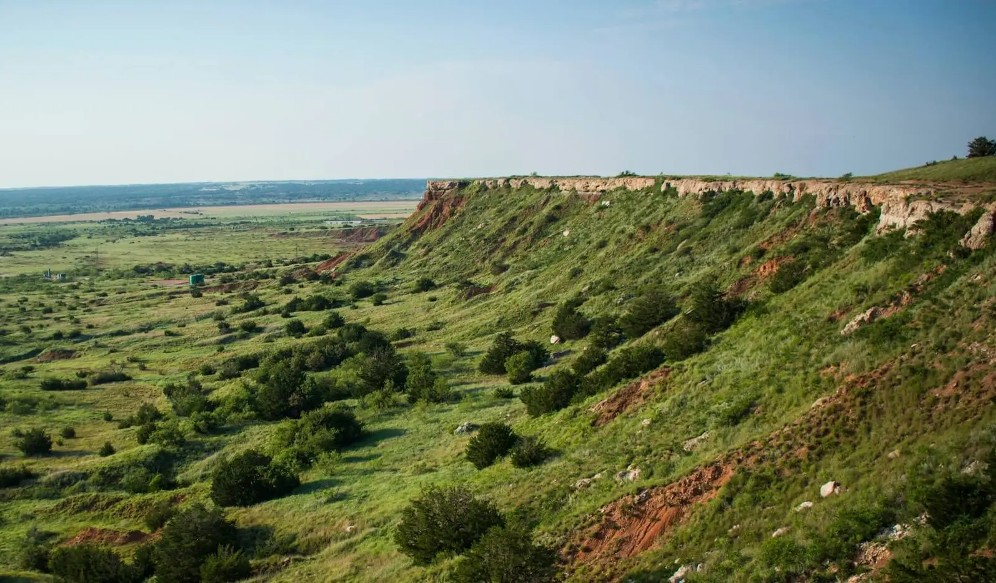 6 Minute Read
|
Published Oct 12 2023
|
Updated Nov 28 2023
Alcoholism, Drug Abuse, Mental Health, and Treatment in Oklahoma
Oklahoma Summary:
Oklahoma residents deal with a number of alcohol, drug abuse and mental health issues. Prescription drug abuse is on the rise, and marijuana is the most commonly cited drug among primary drug treatment admissions in the state, followed by stimulants such as methamphetamines. Some Oklahoma residents lack access to mental health services and treatment.
Despite these concerns, Oklahoma has multiple treatment centers and rehab programs located throughout the state, both in larger cities like Tulsa and Oklahoma City, as well as smaller communities. Some of these private, rural treatment facilities offer luxury accommodations and allow patients to focus on recovery in a relaxed, natural environment.
Quick Oklahoma statistics:
Oklahoma state population: 4 million

Number of people in Oklahoma who abuse alcohol or are alcohol dependent: 250,000

An estimated 90,000 Oklahoma residents abuse or are addicted to illicit drugs

Roughly 175,000 adults in Oklahoma deal with a serious mental illness

Commonly abused substances in Oklahoma include alcohol, marijuana, prescription painkillers and methamphetamines
Alcoholism in Oklahoma
Heavy drinking, binge drinking and alcoholism are serious concerns in the state of Oklahoma. An estimated 37 residents per one million people die of alcohol poisoning in Oklahoma every year. Unlike other states, instances of alcohol-related traffic deaths in Oklahoma are not on the decline, despite efforts from public officials to raise awareness about the dangers of drunk driving and heavy alcohol use.
Oklahoma residents have several options for alcoholism and substance abuse treatment.
Located in Cushing (halfway between Tulsa and Oklahoma City), Valley Hope - South Jones Avenue is a private, nonprofit rehab center that offers comprehensive treatment for alcoholism, addiction and co-occurring mental health and substance abuse issues. Valley Hope has an inpatient and outpatient program and also provides medically-assisted detox, which is the process of removing drugs and alcohol from the body under medical supervision. This 72-bed facility is housed in an upscale mansion overlooking an expansive property, giving participants in the rehab program the opportunity to focus on recovery in a remote, relaxed atmosphere.
For those in need of a payment-assisted rehab center for treatment, Gateway to Prevention and Recovery is a nonprofit facility in Chandler (outside of Oklahoma City). The Gateway treatment center offers both an outpatient program and intensive outpatient program, which is designed for patients who need a structured recovery program, but wish to live at home due to work, family or school commitments. The Gateway facility is open to adults, teenagers and children and accepts Medicaid, Medicaid, private health insurance and also operates on a sliding-fee scale.
Drug Abuse in Oklahoma
Prescription drug abuse is Oklahoma's fastest-growing drug problem. Oklahoma is one of the leading states in prescription painkiller sales per capita, which may contribute to prescription drug abuse. Some individuals who begin abusing prescription drugs, like hydrocodone, oxycodone and alprazolam, eventually switch to using heroin and may develop a heroin addiction.
In Oklahoma, there are a number of rehab centers that specialized in drug abuse and addiction treatment and recovery.
Located in the small community of Maud (outside of Oklahoma City), Clay Crossing Foundation is a private treatment center that offers a top-quality, comprehensive rehab program. The facility has an inpatient (residential) treatment program and the Clay Crossing campus is situated on a 400-acre ranch, complete with mountain and lake views. Clay Crossing is open to adult men and adolescent boys and and offers a wildlife-centric recovery program that includes a variety of recreational activities. The facility also has a dedicated program for patients with HIV or AIDS.
Palmer Continuum of Care is a nonprofit, payment-assisted rehab facility in Tulsa. The treatment center provides a specialized recovery program for opioid addiction, which includes addiction to illegal drugs like heroin, as well as the abuse of prescription drugs like oxycodone and hydrocodone. Palmer Continuum of Care is open to adolescents and women with children and encourages families and loved ones to participate in a patient's substance abuse treatment and recovery through a variety of family programs. The facility accepts Medicaid and also has other treatment financing options.
Mental Health in Oklahoma
According to data from 2014, more than 630,000 people in Oklahoma suffer from some form of mental illness. Reports like these reveal that Oklahoma is one of the worst states in the U.S. for overall mental health, in that the number of people struggling with mental health problems outweighs the number of services and resources available to them.
For those struggling with mental health issues such as depression, anxiety or bipolar disorder, the state of Oklahoma offers multiple resources and services to help residents overcome these problems.
Red Rock Behavioral Health Services is a private, payment-assisted treatment center in Elk City (located in western Oklahoma). Red Rock Behavioral Health Services offers mental health treatment and also helps patients deal with co-occurring substance abuse and mental health conditions. The facility provides aftercare support, which involves making a sustainable plan for recovery and helping patients find support and resources following treatment. At Red Rock, participants engage in multiple types of therapy, including Cognitive Behavioral Therapy (CBT), individual therapy, group therapy, couples counseling and Experiential Therapy. Red Rock Behavioral Health Services accepts Medicaid, Medicare and private health insurance.
How long is inpatient drug rehab in Oklahoma?
The length of a drug rehab program can vary depending upon the facility and type of treatment. Overcoming addiction is an individual process and each person's treatment and recovery experience can differ based on their unique circumstances.
Typically, inpatient (residential) treatment centers offer 30-, 60- or 90-day drug rehab programs. At many of these facilities, the first stage of treatment may involve medically-assisted detox, which is performed under medical supervision. The average medically-assisted detox process takes 3-7 days and can help a patient successfully wean themselves off a drug or substance they've been abusing.
While in drug and alcohol rehabilitation treatment, many participants engage in some type of therapy, such as Cognitive Behavioral Therapy (CBT), Dialectical Behavioral Therapy (DBT), individual therapy, group therapy and couples counseling. Some drug rehab centers are founded on the 12-step model for treatment or provide a holistic approach to addiction treatment and recovery.
Following the completion of an inpatient (residential) treatment program, recovering addicts may choose to participate in an outpatient program, seek some type of aftercare support or enroll in a sober living community or halfway house.
Are there free drug rehab centers in Oklahoma?
There are several drug rehab centers in Oklahoma that accept Medicaid, Medicare or have other low-cost or state-financed treatment payment options.
Oklahoma residents enrolled in Medicaid or Medicare can find an affordable treatment option for alcoholism or drug addiction, as these government-run programs are required to cover the basic conditions of substance abuse treatment and recovery. Medicaid and Medicare are also required to cover some behavioral health services.
While Medicaid and Medicare may not cover the full cost of a drug rehab program, these types of coverage can lessen the financial burden for residents. In Oklahoma, there are also nonprofit treatment facilities, religious-affiliated sober living homes or halfway houses and rehab centers that operate on a sliding-fee scale. Some of these treatment programs accept residents struggling with substance abuse and addiction, regardless of their financial situation.
Oklahoma: Looking Ahead
Oklahoma is working to improve access to care and treatment for both substance abuse and mental health issues. More residents are receiving treatment through the state's public mental health system and the Oklahoma government is looking at ways to expand treatment programs for alcoholism, drug addiction and co-occurring disorders in rural parts of the state.
In Oklahoma, low-income residents struggling with drug and alcohol abuse or addiction can find ways to get the care they need. There are many services and treatment programs that accept patients regardless of their financial situation. If you or someone you know is suffering from a substance abuse problem or mental health issue, know that you are not alone. Help is ready and waiting.
Treatment Centers And Meetings in Oklahoma