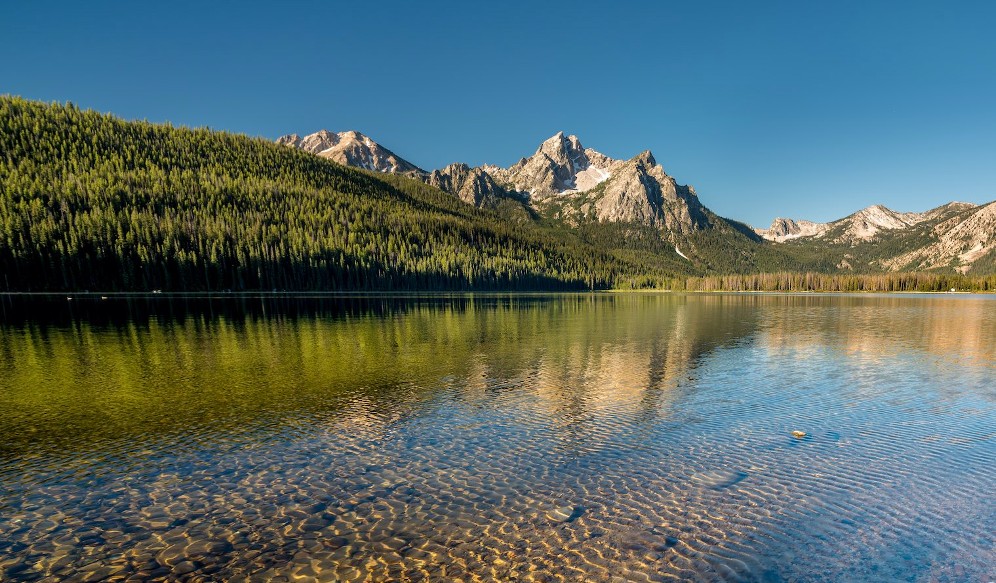 7 Minute Read
|
Published Oct 12 2023
|
Updated Nov 28 2023
Alcoholism, Drug Abuse, Mental Health, and Treatment in Idaho
Idaho Summary:
Compared to other states in the U.S., Idaho's drunk driving rate is considerably lower than the national average. However, prescription drug abuse is a serious problem across many parts of the state. Drug-induced deaths in Idaho nearly doubled from 2007 to 2013. Idaho's mental health system also faces a number of hurdles, as many residents in need of treatment for mental health services lack access to the state's available resources.
Despite these concerns, there are a number of rehab facilities in Idaho that provide quality, comprehensive care for the treatment of alcoholism, drug abuse and co-occurring mental health and substance abuse issues. There are multiple rehab centers in Boise, as well as treatment facilities and outpatient clinics in smaller areas of the state.
Quick Idaho statistics:
Idaho state population: 1.7 million

Number of people in Idaho who abuse alcohol and/or drugs: ~150,000

Number of people in Idaho with a mental illness: 50,000

Prescription drug abuse and drug-related overdoses are major concerns in Idaho

The state also sees a number of residents struggling with alcoholism and the abuse of drugs like cocaine, marijuana and heroin
Alcoholism in Idaho
In Idaho, alcohol-related arrests are on the decline. An estimated 1.2% of residents in Idaho report driving after drinking too much, which is well below the national average. Over 120,000 residents in Idaho are chemically dependent on alcohol, making alcohol the most commonly abused drug in the state.
Idaho has a number of treatment facilities for those struggling with alcohol abuse or alcoholism.
Located in Boise, Ashwood Recovery is a private rehab center that specializes in alcoholism, drug addiction and co-occurring mental health and substance abuse issues. The facility has both an outpatient and intensive outpatient program, which is designed for individuals who need a structured treatment program and want to live at home due to work, family or school commitments. Ashwood Recovery is focused on the 12-step model and offers both a family program and aftercare support. The treatment center is open to men, women, young adults and children and also offers an LGBT Outstanding program.
For those in need of a payment-assisted option for addiction treatment, Community Outreach Counseling is a private facility in Nampa (outside Boise). The treatment center offers an outpatient program and also provides patients with many different types of therapy modalities, including Cognitive Behavioral Therapy (CBT), Dialectical Behavior Therapy (DBT), individual therapy and group therapy. At Community Outreach Counseling, patients will not be turned away due to an inability to pay. The facility is open to adults, teenagers and children and accepts Medicaid, Medicare and private health insurance.
Drug Abuse in Idaho
More and more residents in Idaho are struggling with prescription drug abuse and addiction to opioids. In 2013, an Idaho citizen died every 39 hours due to a drug-induced death caused by illicit, prescription or over-the-counter drug uses. Other commonly abused substances in Idaho include cocaine, marijuana, hallucinogens, inhalants and heroin.
The state of Idaho has several comprehensive, top-quality rehab centers for drug abuse and addiction, as well as payment-assisted treatment facilities.
Intermountain Hospital in Boise is a private rehab center that specializes in helping patients overcome both substance abuse problems and mental health issues. The facility offers both an inpatient and outpatient program and also has a family program, in which family members and loved ones are invited to participate in an addict's treatment and recovery process. Intermountain Hospital is situated on a beautiful, 10-acre campus and amenities include semi-private rooms and an exercise room.
Located in Idaho Falls, Sullivan Mental Health Services is a private, payment-assisted facility that focuses on treating substance abuse and mental health conditions. The rehab center also specializes in the helping individuals overcome opioid addiction, which includes the abuse of illicit drugs like heroin, as well as prescription drugs like oxycodone and hydrocodone. Sullivan Mental Health Services is open to men, women, young adults and teenagers and accepts Medicaid, Medicare, military insurance coverage and private health plans.
Mental Health in Idaho
According to the National Alliance on Mental Illness, nearly one-quarter of Idaho residents are living with a mental illness. Idaho also has one of the highest suicide rates in the country. Many residents in Idaho aren't able to access care or seek help for a serious mental health condition until they're faced with some type of emergency.
In Idaho, there are facilities that focus on the treatment of mental health issues, such as major depression, anxiety disorders, bipolar disorder and schizophrenia.
One such treatment center is Allstar Counseling in Idaho Falls, which has an outpatient program and also caters to individuals struggling with co-occurring substance abuse and mental health problems. Allstar Counseling is open to men, women, teenagers and children and has a dedicated team of bilingual (Spanish-speaking) therapists and staff. The facility also has a designated program for emotionally disturbed children and offers special programs for patients with HIV or AIDS. Allstar Counseling accepts Medicaid, Medicare, military health coverage, private health insurance and has other state-financed and low-cost treatment payment options.
Are there any free drug rehab centers in Idaho?
In Idaho, there are rehab centers that offer free, low-cost or state-financed treatment for residents with financial need. Many rehab centers in the state accept Medicaid, which is a government-run healthcare program for residents who meet certain eligibility requirements.
The Idaho Department of Health and Welfare offers a Substance Use Disorder Services Program for residents who need help with a drug or alcohol problem. The program can assist residents in finding an approved treatment facility, where the amount you pay depends on your financial situation.
The goal of the program is to provide Idaho residents, regardless of their financial situation, the services they need in order to make a full recovery from substance abuse issues and offer care and support for those dealing with behavioral health disorders.
What types of rehab centers are there in Idaho?
Idaho offers a variety of treatment options for those struggling with drug addiction, alcoholism and co-occurring mental health and substance abuse issues.
Many rehab centers in Idaho offer inpatient (residential) programs, in which participants typically stay at the facility for 30, 60 or 90 days. Inpatient programs provide either private or semi-private accommodations and the first stage of treatment may include medically-assisted detox, which is the process of removing drugs and alcohol from the body in a safe, monitored way.
In Idaho, there are also facilities that have outpatient or intensive outpatient programs. It's not uncommon for someone who has completed a residential treatment program to transition to an outpatient program, which can involve continued therapy, counseling or medication monitoring. Many outpatient programs help recovering addicts find resources and avenues for support in order to maintain a substance-free lifestyle, such as participating in 12-step meetings.
Additionally, Idaho has halfway homes and sober living communities. These facilities help recovering addicts maintain sobriety and also provide them with other services, such as employment assistance, life skills classes, and family programs that involve an addict's loved ones and family members. Many halfway homes and sober living communities accept residents with financial need.
Idaho: Looking Ahead
In 2013, behavioral health services offered through Idaho's Medicaid program were privatized and are now run by a managed-care contractor. While spending has decreased due to this move, many mental health advocates in Idaho want to see significant improvements in the way this new managed-care system is run, such as including inpatient programs in the behavioral health plan. In 2016, to combat prescription drug abuse, Idaho made it easier for prescribing physicians to work with the state's prescription drug monitoring program.
While access to care for mental health services and substance abuse treatment needs improvement in many parts of the state, there are facilities in Idaho that help residents make a full recovery from these conditions. For anyone suffering from alcoholism, drug addiction or a mental health problem, help is available. It's important to seek treatment before the problem worsens, and there are resources in Idaho to aid residents with these issues, regardless of financial need.
Treatment Centers And Meetings in Idaho