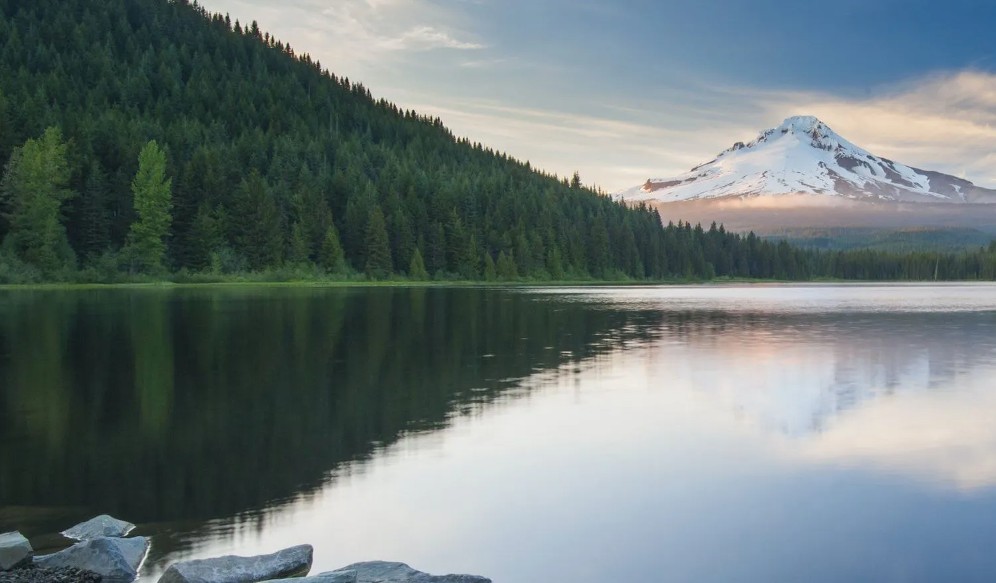 7 Minute Read
|
Published Oct 12 2023
|
Updated Nov 28 2023
Alcoholism, Drug Abuse, Mental Health, and Treatment in Oregon
Oregon Summary:
Oregon deals with varying drug, alcohol and mental health problems among its residents. Prescription drug abuse is a significant issue across the state, and drug overdose deaths involving prescription opioids are on the rise. Methamphetamine and heroin are two of Oregon's biggest drug concerns, due in part to an increase in drug trafficking. Some residents in Oregon lack access to mental health resources and services.
However, Oregon also has some of the best treatment centers for substance abuse in the Pacific Northwest. There are two Hazelden Betty Ford clinics in the state, as well as a handful of small, unique programs that offer a personalized approach to treatment in an intimate setting. Furthermore, the beauty of Oregon's landscape allows those in recovery to focus on overcoming addiction in a serene, relaxing and natural environment.
Quick Oregon statistics:
Oregon state population: 4 million

Number of people in Oregon who abuse alcohol and/or drugs: 400,000

Roughly one in 18 adults in Oregon deal with a mental health issue

Prescription drug abuse is a serious concern in Oregon

Other commonly abused substances include marijuana and methamphetamine
Alcoholism in Oregon
In Oregon, alcohol-related deaths are on the rise. From 2001 to 2013, the rate of alcohol-related deaths increased 34%. Binge drinking among youths is also a concern in Oregon. Data from 2015 revealed that over 16% of young people in the state ages 12-20 engage in binge drinking on a monthly basis.
Oregon has an array of treatment options for alcoholism and substance abuse located throughout the state, including both luxury and payment-assisted facilities.
Hazelden Betty Ford - Southwest Avenue is a luxury rehab center located in the Portland suburb of Beaverton. The Hazelden Betty Ford treatment centers are considered some of the top rehab programs in the nation, offering a comprehensive approach to substance abuse treatment and recovery. The Beaverton facility specializes in Opioid Dependence Treatment, in which participants engaged in a treatment program designed by the Hazelden Betty Ford Foundation that involves the use of medications, extended continuing care and close monitoring or medication use. The Beaverton treatment center is also a preferred provider of Oregon's court-mandated Driving Under the Influence of Intoxicants (DUII) diversion program.
For those in need of a payment-assisted facility, Serenity Lane - 16th Avenue is a nonprofit rehab center located in Eugene. Serenity Lane offers an inpatient (residential) program, an outpatient program and an intensive outpatient program, in which participants have the option to live at home during treatment due to work, school or family commitments. Serenity Lane is open to men, women and young adults and has low-cost treatment options in addition to accepting private health insurance plans.
Drug Abuse in Oregon
Like other states in the U.S., prescription drug abuse is an increasing problem in Oregon. In 2013, more drug overdose deaths involved prescription opioids than any other type of drug, including methamphetamines, heroin, cocaine and alcohol. Reports from 2015 indicated that Oregon ranks second in the nation for non-medical use of pain relievers.
Oregon is home to a number of rehab centers in Oregon focusing on the treatment of drug abuse and addiction.
Circle of Trust Healing Center is a luxury facility located in Ashland. The rehab center has an inpatient (residential) treatment program and also provides intervention services, in which an intervention specialist helps facilitate an intervention for someone who is addicted to or abusing drugs. Circle of Trust Healing Center offers a holistic approach to addiction recovery, including treatments such as Far Infrared Sauna, Hyperbaric Oxygen Therapy, colonics and Nutritional Therapy. Those enrolled in a program at Circle of Trust Healing Center receive in-depth, one-on-one guidance along with individual psychotherapy.
ADAPT is a private, payment-assisted rehab center in Roseburg. The facility offers an outpatient and intensive outpatient program and also provides medically-assisted detox, which is the process of removing drugs and alcohol from the body under medical supervision. ADAPT operates on a sliding-fee scale and also accepts Medicaid, Medicare, military health coverage and private health insurance. The treatment center is open to men, women, young adults and children and has a dedicated team of bilingual (Spanish-speaking) therapists and staff.
Mental Health in Oregon
In Oregon, roughly one in 18 adults deals with some type of mental health problem. An estimated 10-12% of children aged 9-17 have a serious emotional disturbance. The Mental Health America organization ranks Oregon at the bottom for mental health care, in that there are more adults and children with mental illness, substance abuse and thoughts of suicide than who have access to care.
The state of Oregon provides a variety of options for residents in need of treatment for mental health conditions, such as major depression, bipolar disorder, anxiety disorder and schizophrenia.
Monte Nido - Rain Rock is a luxury, private treatment facility located in the Eugene suburb of Springfield. Monte Nido has an inpatient and outpatient program and provides patients with multiple therapy treatment methods, including Cognitive Behavioral Therapy (CBT), Eating Disorder Treatment, Nutrition Therapy, Experiential Therapy and Equine Therapy (EAT), which involves interactions and activities with horses. The beautiful, serene Monte Nido campus allows patients to experience a natural environment that is conducive to healing while enrolled in a treatment program at this facility.
Located south of Salem in Albany, Linn County Mental Health is a public, payment-assisted treatment center that offers both an inpatient and outpatient program. Linn County Mental Health also provides treatment for patients dealing with co-occurring mental health and substance abuse issues. The facility is open to adults, young adults and children and accepts Medicaid, Medicare, private health insurance and military insurance coverage.
What are the best rehab centers in Oregon?
Oregon has a number of top-rated, high-quality rehab centers that offer private and luxury accommodations to participants enrolled in inpatient treatment programs.
The Hazelden Betty Ford Foundation has two facilities in the state of Oregon. Hazelden Betty Ford Foundation - Esther Street is located in Newberg (southwest of Portland), while Hazelden Betty Ford - Southwest Avenue is located in the Portland suburb of Beaverton. Both facilities offer comprehensive drug and alcohol rehabilitation treatment with a holistic focus. Hazelden's Newberg campus features an upscale facility housed on a large campus complete with walking paths and a Springbrook Healing Way Circle. The Beaverton campus offers an outpatient program and treatment tailored to fit an individual's specific situation with respect to substance abuse and mental health.
One unique treatment facility in the state of Oregon is Sunspire Health - The Rosebriar, a sober living home in the picturesque community of Astoria. The Rosebriar is a beautiful, historic home where women affected by addiction and co-occurring mental health disorders receive treatment in a safe and supportive environment. This Victorian-era home is situated on a hill overlooking the Columbia River and Astoria Bridge, offering women in the program a serene, home-like atmosphere while in recovery.
How much is rehab for depression in Oregon?
The cost of mental health treatment varies depending upon the program and the facility. Many rehab centers in Oregon offer some type of payment assistance for treatment and accept either Medicaid, Medicare, private health insurance or military health coverage. There are also public and nonprofit facilities that operate on a sliding-scale fee model or offer other low-cost or state-financed treatment payment options.
A standard 28- or 30-day inpatient (residential) drug and alcohol rehab program can cost anywhere from $10,000 to $20,000 a month. Reduced-cost inpatient treatment centers can be $2,000-$7,500 a month. Luxury facilities can cost up to $50,000 or more a month. However, inpatient rehab programs often involve medically-assisted detox, which can impact the total cost of these programs.
The average 8-10 week outpatient substance abuse treatment program costs around $2,000.
Someone seeking a treatment for a mental health condition may find that the pay scale for these programs differs from the cost of typical drug and alcohol rehab. According to the Agency for Healthcare Research and Quality, patients tend to bear only 16% of the total costs of mental health treatments overall.
Oregon: Looking Ahead
Oregon seeks to reduce the prevalence of drug addiction and substance abuse in the state through several different initiatives. The state has a Prescription Drug Monitoring Program and in 2016 Oregon created a Task Force to develop statewide opioid prescribing guidelines. Law enforcement officials are also cracking down on drug trafficking through a variety of anti-drug efforts targeting specific counties. Mental health advocates in Oregon are currently pushing for the state to increase funding and focus more on prevention and ongoing services for residents with mental illness.
Despite its small population, Oregon has a surprising number of top-rated, luxury treatment centers for residents struggling with substance abuse. Those seeking a holistic approach to addiction treatment and recovery have multiple facilities in Oregon to choose from. Residents with financial need also have several options, as many of these comprehensive treatment programs also offer some form of payment assistance. Help is available to those who need it in programs that have been proven to work.
Treatment Centers And Meetings in Oregon