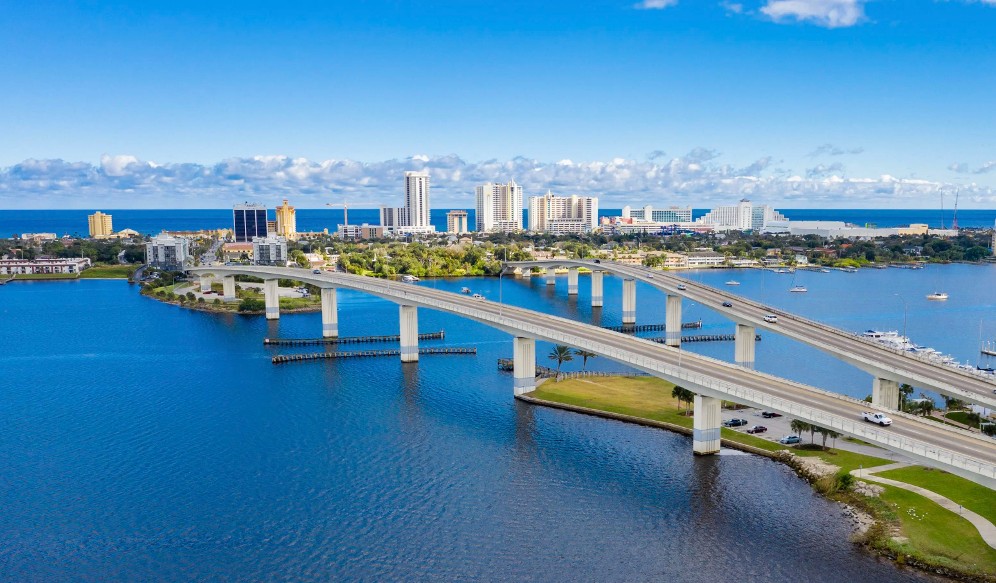 7 Minute Read
|
Published Oct 12 2023
|
Updated Nov 28 2023
Alcoholism, Drug Abuse, Mental Health, and Treatment in Florida
Florida Summary:
Due to its large population, the state of Florida has a significant number of residents struggling with drug and alcohol addiction. In particular, Florida is currently seeing a major problem with heroin addiction. Additionally, prescription drug abuse is a critical issue, as at one time Florida had many pain management clinics that were known to liberally prescribe opiates to patients. Florida is actively trying to combat prescription drug addiction by implementing a statewide prescription management monitoring system.
Fortunately, Florida also has a large number of treatment centers for alcoholism, drug abuse and mental health issues. Many come from out of state to a luxury or payment-assisted facility in Florida for treatment. Florida is known as a state that welcomes those seeking support for sobriety.
Quick Florida statistics:
Florida state population: 20 million

An estimated 4% of people in Florida have a serious mental illness

Roughly 6% of people age 12 and over in Florida are alcohol-dependent, and almost 3% abuse drugs

The most commonly abused drugs in Florida are marijuana, opioids, prescription drugs, cocaine and heroin

In late 2016, Florida voters approved the legalization of medical marijuana
Alcoholism in Florida
In Florida, the use of alcohol among young adults had dropped significantly in the last decade, particularly among teenagers. For adults, alcohol abuse is still one of the main issues patients cite when being admitted to rehab. Alcohol addiction is a serious health issue that can also lead to cancer, cardiovascular disease, cirrhosis, depression and more.
In the state of Florida, treatment programs for alcoholism include both secluded, luxury facilities and payment-assisted options in larger cities.
Located in Boca Raton, Life in Progress - Luxury Student Recovery is a gender-specific living community for male students making the transition from treatment to student life. This luxury facility is located in proximity to the campuses of Florida Atlantic University, Palm Beach State College and Lynn University. Life in Progress provides a safe and affordable sober house options for students with alcohol and drug abuse issues. The facility also offers 24-hour supervision through a live-in recovery residence manager.
River Region Human Services - Outpatient Services is one of many payment-assisted treatment centers in Florida. Located in Jacksonville, the facility accepts Medicaid and Medicare and offers state-funded treatment options. River Region provides services in five areas: alcohol and drug abuse, mental health, housing, youth and family services and outreach. The facility also offers Medically Assisted Detox, including Vivitrol for addiction recovery. The drug has been proven to be significantly effective in treating alcohol and opiate abuse.
Drug Abuse in Florida
Opioid addiction — which includes abuse of drugs like heroin and Oxycontin and Vicodin — is an increasing problem in Florida. Cocaine, methamphetamine and marijuana are also frequently cited by patients entering a substance abuse treatment program. However, the use of these drugs is lower than average in some areas of Florida, compared to surrounding states and national statistics.
For those seeking treatment for drug addiction, Florida provides residents with a range of both upscale and payment-assisted rehab facilities.
Hazelden Betty Ford Foundation has multiple facilities in the U.S., including a treatment center in Naples, Florida. This luxury rehab program provides holistic care and accepts both men and women as patients. Hazelden in Naples offers multiple care options in one facility, including a Serenity Experience that involves stress reduction and biofeedback treatment. The rehab center also has on-site structured recovery housing and its own Hazel's Cup coffee shop.
In Tampa, the Derek Jeter Center at Phoenix House is one of multiple payment-assisted treatment centers in the area. Open to adults and teenagers, the center offers comprehensive outpatient services for families dealing with adolescent drug and alcohol abuse. One of the Center's missions is to help patients with drug and alcohol addiction build support networks to help maintain their recovery. The facility has bilingual (Spanish) therapists and staff, accepts Medicaid and provides some treatment financing.
Mental Health in Florida
Mental illness is a growing problem in the state of Florida. Mental health issues include those suffering from depression, anxiety, bipolar disorder and schizophrenia. While the state does offer a number of payment-assisted facilities that provide low-cost treatment for mental illness, roughly over half of residents seeking treatment struggle to find the right resources. Florida ranks 49th among the states for mental health programs, spending an average of $37.28 per person in 2013.
That said, Florida does offer multiple types of treatment options and facilities for mental health issues:
Located south of West Palm Beach, the Lucida - Women's Mood Disorders Program in the beachside community of Lanata is a luxury rehab facility for women suffering from mental health issues. The treatment center provides care for patients with mental health issues like depression, anxiety, trauma, bipolar disorder and intimacy and relationship issues. Lucida offers treatment in a small, intimate setting and offers a range of therapy options, including Animal Therapy, Dialectical Behavior Therapy (DBT) and Eye Movement Desensitization and Reprocessing (EMDR), which can significantly reduce the intensity of remembered traumatic incidents.
For those seeking a payment-assisted facility in Florida, Seminole Behavioral Healthcare specializes in the treatment of mental health. Located in the Orlando suburb of Sanford, Seminole treats both adults and young adults and accepts Medicaid and Medicare as payment options. The facility provides a wide range of therapy choices, including Cognitive Behavioral Therapy (CBT), Couples Therapy, Experiential Therapy and Nicotine Replacement Therapy for quitting smoking. Seminole also offers special programs for mental health patients with HIV or AIDS.
How much does drug rehab cost in Florida?
Florida has a number of rehab centers that accept multiple forms of payment. Certain luxury treatment facilities accept health insurance, and many payment-assisted facilities accept Medicare and Medicaid. In some case, these facilities also offer treatment financing or other low-cost options for patients.
Typically, rehab centers for substance abuse cost more for inpatient treatment and are less expensive for outpatient treatment. For instance, inpatient facilities could cost $500 per week on the low end and up to $100,000 per stay on the higher end. Keep in mind that these figures do not include health insurance coverage, which could dramatically lower costs for the patient him/herself.
Into Action Treatment in Boynton Beach is a private rehab facility that offers long-term affordable care. The facility costs $12,000 per month or $30,000 for a 90-day program. Into Action Treatment accepts health insurance and also has other state-financed treatment payment options.
In some cases, the Affordable Care Act now makes it easier to pay for substance abuse treatment. Under the law, addiction is no longer a pre-existing condition, so those suffering from alcohol or drug addiction can still obtain insurance through a health provider that may offer coverage for rehab. Those seeking more information can visit the online Health Insurance Marketplace at HealthCare.gov.
Does Medicaid cover drug rehab in Florida?
There are many payment-assisted facilities in Florida that accept Medicaid as a form of payment. Medicaid coverage includes treatment for alcoholism, substance abuse, drug addiction, counseling, clinic visits and residential and outpatient treatment. While Medicaid may not always cover the full cost of drug rehab treatment, it can lessen the financial burden for patients.
The Patient Protection and Affordable Care Act extended the reach of the Mental Health Parity and Addiction Equity Act (MHPAEA), which prevents health insurance companies from providing less favorable coverage options for mental health treatment or substance use disorder. The Affordable Care Act requires that insurance providers — including Medicaid — must cover the basic conditions of drug and alcohol dependence recovery.
To qualify for Medicaid, patients must be one of the following: a parent, pregnant, under the age of 19 or an adult within a specified income bracket. People who earn less than 133% of the federal poverty level are eligible for Medicaid. Senior citizens over the age of 65 who receive Supplemental Security Income automatically qualify for Medicare.
Florida: Looking Ahead
Due to its proximity to drug-producing countries in the Caribbean, Central and South America, Florida is a gateway for those smuggling illegal drugs into the U.S. Rural and agricultural portions of the state make for a hotbed of methamphetamine production and cannabis cultivation.
However, the state of Florida is actively trying to stop the importing of illicit drugs into the country. In addition to its efforts to combat the sale and distribution of illegal drugs, Florida is committed to providing an assortment of treatment options for those seeking help for alcoholism and substance abuse. Many treatment facilities have bilingual staff and therapists for Spanish-speaking patients.
In Florida, there are a number of state-funded rehab programs that offer treatment to low-income residents or those with financial need. The state also has many different luxury facilities for treatment for alcoholism, drug addiction and mental health problems. Florida is known as a sobriety-friendly state, where those seeking a sober living community or support for overcoming addiction have a wide array of treatment options to choose from.
The multiple and wide-reaching options available to those with drug and alcohol addiction or mental health problems means that if you are suffering from substance abuse or co-occurring issues, you can find the best treatment option for you. Help is ready and waiting.
Treatment Centers And Meetings in Florida
Common Questions About Better Addiction Care
Take a look at our FAQ. We've tried to fill it with all the answers you're looking for. And if not, contact us on (800) 429-7690.
In 2019, over 55,000 people were admitted to addiction treatment programs in Florida in 2019. Despite this, there is still a significant percentage of individuals who need treatment but have not sought it. With treatment, those struggling with an addiction can also treat any co-occurring disorders that might be at the root of their substance abuse. There are a variety of options for rehab and many ways to get help paying for treatment.
Some inpatient rehabs may cost around $6,000 for a 30-day program. Well-known centers often cost up to $20,000 for a 30-day program. For those requiring 60- or 90-day programs, the total average of costs could range anywhere from $12,000 to $60,000.
The length of stay in rehab will be different for everyone. Addiction treatment typically lasts 30 days, but some programs last 60 or 90 days. If you have a mild addiction, you may only need to stay in treatment for a few weeks.