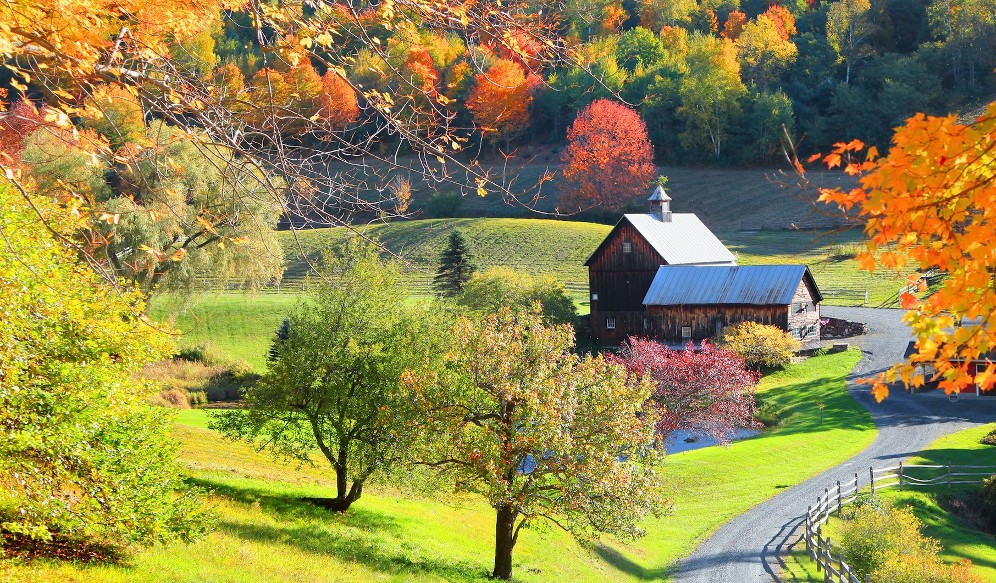 6 Minute Read
|
Published Oct 12 2023
|
Updated Nov 28 2023
Alcoholism, Drug Abuse, Mental Health, and Treatment in Vermont
Vermont Summary:
Even though Vermont has a small population, it has some of the highest rates of drug and alcohol use in the nation. In particular, young people in Vermont engage in binge drinking and illicit drug use at far higher rates than the national average. In Vermont, over 20% of youths ages 12-20 report binge drinking, whereas only 14% of youths nationwide report engaging in the same behavior.
Despite these concerns, the state of Vermont does provide residents with services, resources and treatment centers that specialize in drug and alcohol abuse and co-occurring substance abuse and mental health issues. There are treatment facilities in rural parts of the state, and several payment-assisted treatment programs for residents with financial need.
Quick Vermont statistics:
Vermont state population: 650,000
Over 7% of Vermont residents abuse alcohol or are alcohol dependent
An estimated 3% of Vermont residents abuse illicit drugs or suffer from drug addiction
Opiates, including prescription opioids, are the most commonly cited drugs in drug treatment admissions in Vermont, followed by marijuana
Alcoholism in Vermont
Vermont is seriously concerned by the number of young adults who engage in binge drinking or heavy drinking. Vermont has some of the highest drinking rates among youths ages 12-20. According to data from 2015, 59% of residents in Vermont report using alcohol in the last 30 days, compared to 52% nationally.
Fortunately, there are multiple rehab facilities in Vermont that focus on substance abuse treatment and alcoholism.
Located in Rutland, Recovery House - Grace House is a payment-assisted, nonprofit rehab center that offers an inpatient (residential) treatment program. At Grace House, addicts in treatment participate in individual therapy and the facility is focused on the 12-step recovery model. Grace House aims to provide a comprehensive, co-educational substance abuse treatment program to adults struggling with drug and alcohol abuse or addiction. The rehab center offers 24-hour supervision and treatment programs are tailored to the individual. Grace House is open to men, women and young adults and has state-financed or low-cost treatment payment options.
Drug Abuse in Vermont
Like other states across the nation, opioid abuse and addiction is a growing problem in Vermont. Vermont has some of the highest rates of illicit drug use in the U.S., with an estimated 15% of the population reporting having used an illicit substance in the past month. In Vermont, heroin addiction and opioid abuse is now considered a public health crisis, as the number of deaths related to opioid overdose is on the rise.
The state of Vermont has several treatment centers for residents dealing with drug addiction or substance abuse.
Teen Challenge is a public treatment facility in Johnson that provides a comprehensive addiction treatment and recovery program. Located on a 10-acre campus, the Teen Challenge facility offers mountainside views of Sterling Ridge and is a place where young adult men can focus on overcoming their struggles in a calm, serene environment. Teen Challenge specializes in opioid addiction treatment, which includes addiction to illicit drugs like heroin, as well as prescription drugs like oxycodone. The Teen Challenge facility also provides treatment for co-occurring mental health and substance abuse issues.
Located in Burlington, the Lund - Residential Treatment facility offers both an inpatient and outpatient program. The rehab center provides medically-assisted detox, which is the process of removing drugs and alcohol from the body under the supervision of a medical professional. The Lund- Residential Treatment center offers group therapy and trauma therapy, which helps individuals address traumatic events from their past. The facility is open to young women and children and accepts Medicaid.
Mental Health in Vermont
In the state of Vermont, suicide and other mental health problems are significant behavioral health issues affecting residents. According to data from 2015, nearly 5% of adults in Vermont have experienced serious thoughts of suicide in the past year, which is higher than the national average. For residents with any type of mental illness, slightly over half (57%) have received treatment or counseling.
For residents in Vermont dealing with mental health conditions or problems, such as major depression, anxiety disorders, bipolar disorder or schizophrenia, there are treatment programs and facilities available to them.
One such treatment center is Clara Martin Center, a private, payment-assisted facility in Bradford. Clara Martin Center offers an outpatient program and also provides treatment for patients dealing with co-occurring mental health and substance abuse issues. Many people struggling with addiction are also dealing with a behavioral health problem, or have a mental illness. Clara Martin Center offers individual therapy, group therapy, couples counseling and also provides Eating Disorder Treatment for patients suffering from anorexia, bulimia, binge eating or dysfunctional eating patterns. Clara Martin Center is open to adults, young adults and children and accepts Medicaid, Medicare and private health insurance.
Does Medicaid cover drug rehab in Vermont?
Medicaid is a government-run health coverage program for residents who meet certain eligibility requirements. There are many drug rehab centers in Vermont that accept both Medicaid and Medicare.
To qualify for Medicaid, residents must be either: a parent, pregnant, under the age of 19 or living within a specified income bracket. Residents who earn less than 133% of the federal poverty level are eligible for Medicaid. Residents with certain disabilities or health conditions may also qualify for Medicaid coverage. Medicare is a healthcare program for senior citizens over the age of 65.
In Vermont, the Department of Health offers a list of preferred providers for addiction treatment. These providers are eligible for Medicaid reimbursement and accept patients with Medicaid coverage. State-funded substance abuse treatment includes inpatient psychiatric and detoxification services and residential programs.
How long is inpatient drug rehab in Vermont?
The length of a drug or alcohol rehabilitation stay can vary, depending upon the facility and the type of program. For anyone struggling with addiction or substance abuse, it's important to remember that the recovery process can be different for everyone. There is no one-size-fits-all method for addiction treatment and recovery.
Typically, an inpatient (residential) drug rehab program can run 30, 60 or even 90 days. For many, the first stage of an inpatient program is to undergo medically-assisted detox, which is supervised by health practitioners and staff members at the facility. Following detox, patients in a residential treatment program are encouraged to participate in individual or group therapy, or some type of counseling or 12-step meeting.
After completing an inpatient rehab program, many recovering addicts choose to continue treatment through an outpatient program, or by enrolling in a sober living community or halfway house. These substance-free living environments provide a safe, supportive space for addicts to focus on their sobriety and make a successful transition out of rehab.
Vermont: Looking Ahead
Vermont is working to combat its rising opioid abuse problem and tackle complex mental health issues affecting residents, such as depression and suicide. In 2015, state lawmakers expanded access to drug and alcohol treatment programs by allowing licensed counselors to accept Medicaid payments, even if their clients did not have a diagnosed mental health disorder. Vermont is also increasing its prevention efforts. After receiving a federal grant, the state is attempting to add alcohol and drug screenings into the primary healthcare network.
Vermont is facing many hurdles in regards to decreasing drug and alcohol use in the state, but help is still available for residents who are struggling with substance abuse or co-occurring addiction and mental health problems. In addition to treatment centers in larger cities like Burlington, there are rehab programs offered in more rural parts of Vermont. This allows residents to find a comprehensive, affordable treatment option in their local area. Help is ready and waiting for those ready to take action and create a better life for themselves.
Treatment Centers And Meetings in Vermont