10 Tips for Choosing a Halfway House
Since there isn't a 'cure' for addiction, one of the best ways to maintain sobriety after finishing an inpatient or outpatient program is to make use of aftercare services such as halfway houses. These programs help to keep a recovering person on track with their relapse prevention plan, which is very important to stop the disease from taking over again. In this article, we will discuss several tips to help you in choosing a halfway house in order to maintain your sobriety.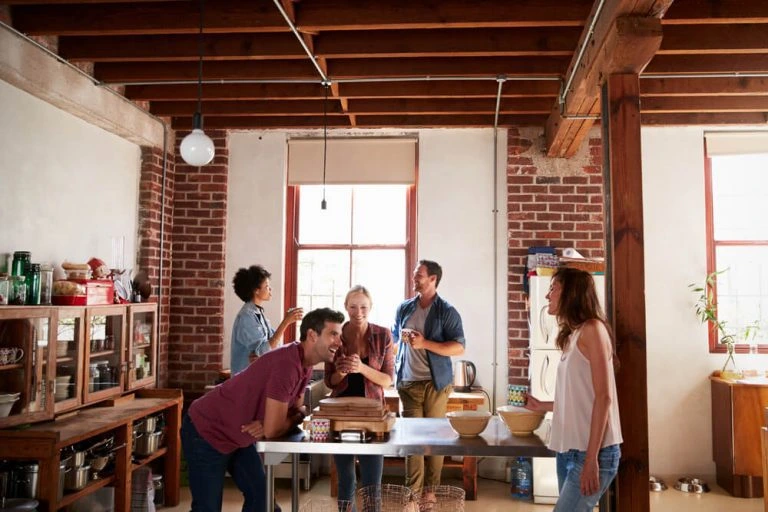 5 Minute Read
|
Published Aug 21 2023
|
Updated Oct 18 2023
What's the difference between recovery residences and halfway houses? Click here to learn more. 
What is a Halfway House?
Historically, a halfway house is a residence that houses various individuals with possible emotional, mental, and physical disabilities. As an aftercare service, a halfway house is a place where recovering addicts can stay in the same residence while they relearn, or learn, the skills they need to take care of themselves, stay clean and sober, and be a productive member of their community. They are generally used after rehab to help with the transition from professional treatment to a normal way of life.
Typically, these residences either place the individual in a small group or by themselves and then move them into larger living sections with more people as time goes by, or in reverse; starting them out in larger groups first. Stays tend to last between one and six months. The houses always have strict rules that prevent substance abuse, and most usually have internal programs to assist in maintaining sobriety.
Varies studies, such as "Continuing Care Research: What We've Learned and Where We're Going", showed the importance of halfway houses, stating that people are more willing to continue with their prevention plans and thus their goals of sobriety when they use aftercare services.
Tips on How to Find a Halfway House
There are many different halfway houses to choose from; some may be ideal while others are lacking in critical areas. To help you in choosing a halfway house that will work for you, we will discuss several tips to help you discern which one is best.
1. Accountability
The whole point of a halfway house is to assist a person with their transition, but how they achieve that is important. Individual accountability should be one of the areas you look at; how are people kept accountable during their stay? Do they need to find and keep a job, pass drug tests, or attend support group meetings? Find out what the rules and regulations of the house are, and consider how they may help you as a person.
2. Safety
One of the factors for choosing a halfway house should be whether or not a person is made to feel safe during their stay. A home is meant to be a place where you can relax and find peace from the stressors of life. As such, a halfway house should promote the same kind of safety and comfort.
3. Affordability
Of course, before choosing a halfway house, one should ensure that it is affordable. Many houses may be covered in part or in full by insurance, but it's important to find out before picking one of the halfway houses near me. It will be a place where you spend between one and six months in, so choosing one that has more amenities is advised.
4. Location
One of the tips on how to find a halfway house is searching for them by location. The ideal halfway house should not be too far from your family and friends as they can offer crucial support during this time, and early recovery can often be a lonely experience. On Better Addiction Care, you can find halfway houses near me by using their search feature. One can search by city, state, or zip code for the nearest halfway house in your location.
5. Halfway Houses and Your Rehab
Open communication between your rehab and the halfway house can be very beneficial. When choosing a halfway house that has easy lines of communication with your rehab it can allow your treatment to be streamlined from intensive treatment to the aftercare service. If something were to occur at the house, then the rehab can be informed right away and more precise steps can be taken to help get the recovering person back on track.
6. Social and Peer Support
One of the reasons why these houses are so successful in helping people stay clean and sober is the peer and social support that you can get from the staff and other members of the house. Before choosing a house to live in, ask them about how supportive their staff and the other members of the house generally are. You are looking for a non-judgmental facility that won't be a burd on you and cause extra stress.
7. Be Open and Prepared to Learn
The other people living in the home can serve as a way learn, much like you see in support groups such as AA or NA. People living in the home that have managed to maintain their sobriety for months can offer insight and advise on your situation to help you achieve the same results after your time there. Such learning should be encouraged through social time and house group meetings.
8. Licensing
There are various state laws that ensure that a facility that calls themselves a halfway house lives up to regulations and guidelines that ensure that they can carry out their tasks. What these licenses do is provide some level of trust and confidence that they know what they are doing and will help as best they can to keep individuals away from alcohol and drugs, and become productive in their community and home.
9. Staff
Not all halfway houses have around-the-clock staff on duty. The staff that run the facility can be invaluable to the people living in the homes, especially when they are addiction specialists. Having qualified staff that manage the home can mean that the halfway house is able to provide more than a roof over your head and a curfew; they can offer further treatment programs and activities to assist with sobriety.
10. How It's Managed
Not all halfway homes are managed the same way. In some you might find that staff take care of the cooking and cleaning while in others it may be done by the residents themselves. These kinds of management factors can play a role in your decision. It can also help you to prepare for what to expect when you start your stay there.
Substance Abuse and Mental Health Services Administration (SAMHSA)
"Choosing a Quality Recovery Residence"
Retrieved on June 28, 2023
National Alliance for Recovery Residences (NARR)
"Standards and Certification"
Retrieved on June 28, 2023
Sober Living Coalition
"How to Choose a Sober Living Home"
Retrieved on June 28, 2023
Verywell Mind
"How to Choose a Sober Living Home or Halfway House"
Retrieved on June 28, 2023
Addiction Center
"What to Look for in a Halfway House"
Retrieved on June 28, 2023
Alcohol.org
"How to Choose a Halfway House"
Retrieved on June 28, 2023
Recovery.org
"Choosing a Halfway House: What to Look For"
Retrieved on June 28, 2023
Alcohol Rehab Guide
"Choosing the Right Halfway House for Recovery"
Retrieved on June 28, 2023
The Recovery Village
"How to Choose a Halfway House"
Retrieved on June 28, 2023
Psychology Today
"How to Choose the Right Sober Living Home"
Retrieved on June 28, 2023