Fentanyl is a potent opioid painkiller prescribed for the management of severe pain, such as breakthrough cancer pain. Misusing fentanyl can lead to dependence, withdrawal, and addiction, as well as overdose. Overdose fatalities caused by fentanyl and similar synthetic opioids have increased dramatically in the United States in recent years.1 In 2019, there were over 36,000 synthetic opioid fatalities nationwide., more than any other type of opioid.2 Once you develop a fentanyl addiction, it can be difficult to quit on your own, but treatment is available. Knowing the signs and symptoms of a fentanyl addiction can help you know when to seek a rehab program.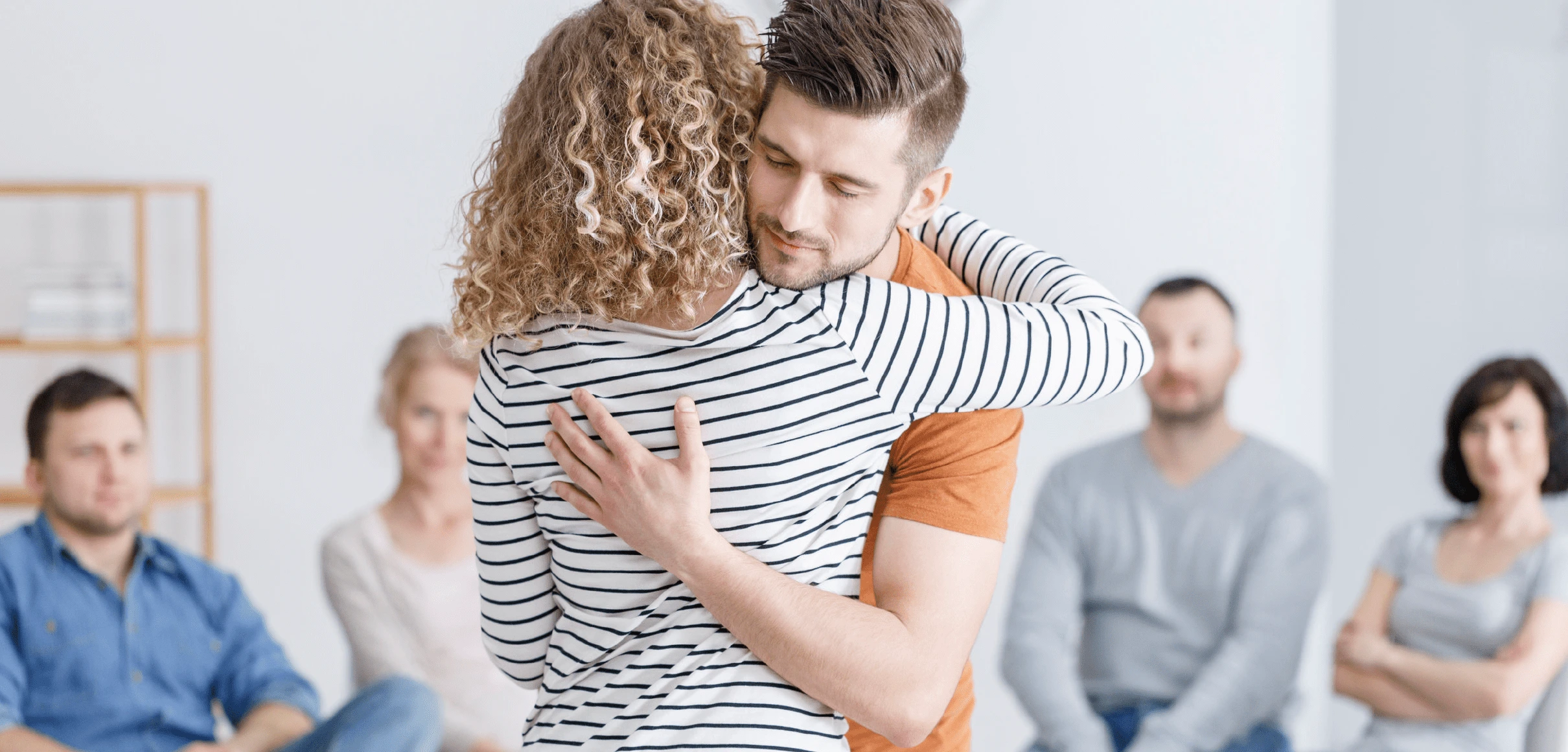 6 Minute Read
|
Published Jul 28 2023
|
Updated Oct 17 2023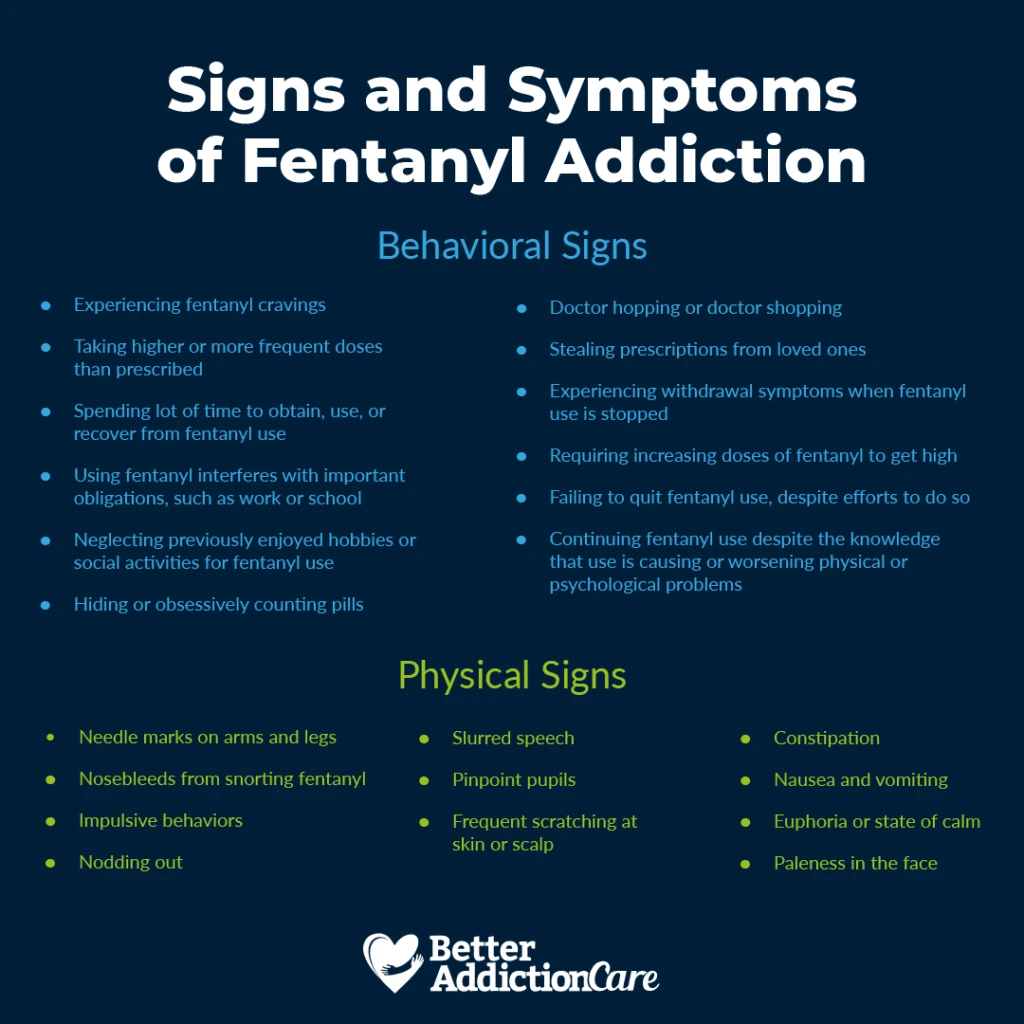 Physical Signs
Fentanyl addiction is a chronic condition characterized by compulsive fentanyl use despite the negative affect it has on your life, such as financial, occupational, or interpersonal problems. Although fentanyl addiction may affect everyone differently, there are several common physical symptoms that indicate fentanyl misuse, such as:
Needle marks on arms and legs
Nosebleeds from snorting fentanyl
Impulsive behaviors
Nodding out
Slurred speech
Pinpoint pupils
Frequent scratching at skin or scalp
Constipation
Nausea and vomiting
Euphoria or state of calm
Paleness in the face
Confusion
Many of the above physical signs are side effects of fentanyl use or misuse, which may escalate the longer someone misuses fentanyl.
Behavioral Signs
In addition to these physical signs of fentanyl use, you may notice behavioral changes in someone. These signs of a fentanyl addiction include:
Experiencing fentanyl cravings
Taking higher or more frequent doses than prescribed
Spending lot of time to obtain, use, or recover from fentanyl use
Using fentanyl interferes with important obligations, such as work or school
Neglecting previously enjoyed hobbies or social activities for fentanyl use
Hiding or obsessively counting pills
Doctor hopping or doctor shopping
Stealing prescriptions from loved ones
Experiencing withdrawal symptoms when fentanyl use is stopped
Requiring increasing doses of fentanyl to get high
Failing to quit fentanyl use, despite efforts to do so
Continuing fentanyl use despite the knowledge that use is causing or worsening physical or psychological problems
If you are concerned that you or someone you care about is addicted to fentanyl, don't hesitate to seek help. The sooner you find treatment, the earlier you can begin on the road to a happier and healthier life. We are here to assist you on that journey—give us a call at 1-800-429-7690.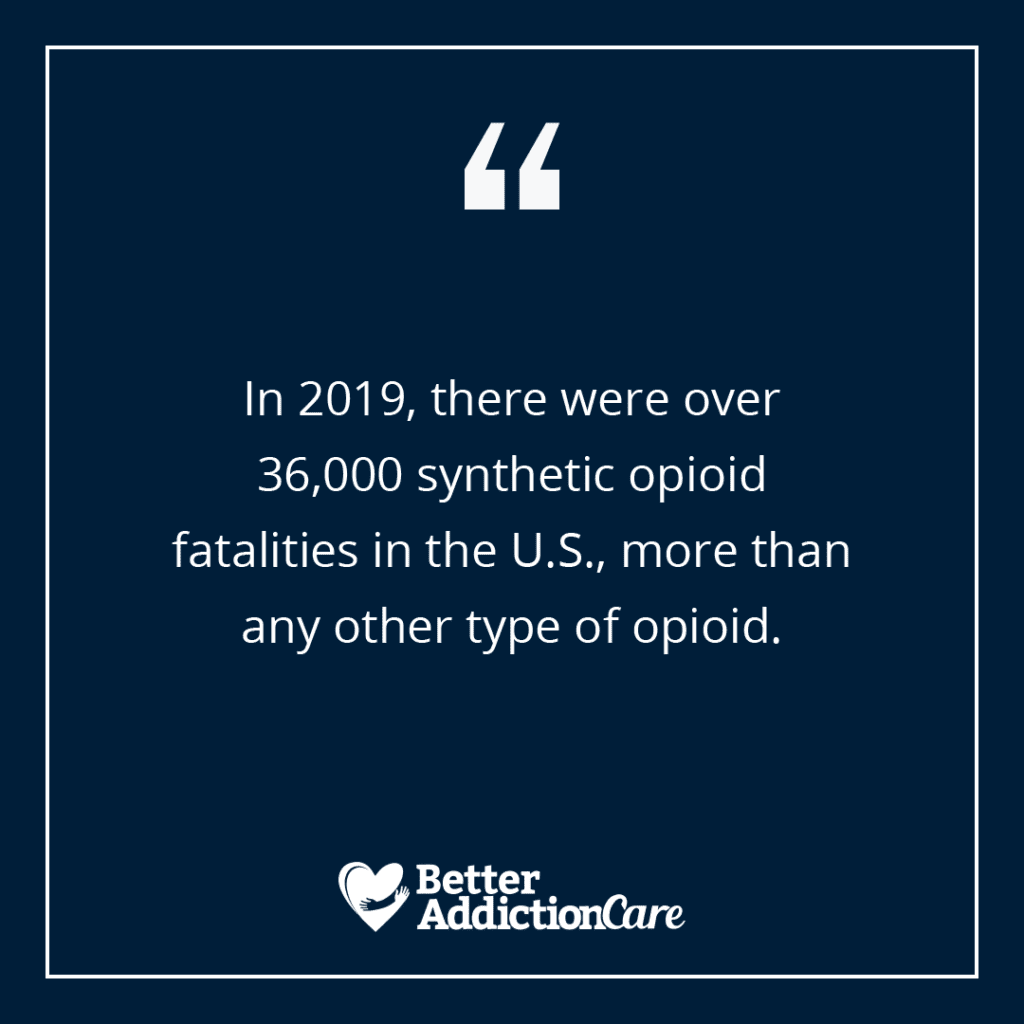 Who is at Risk for an Addiction?
Fentanyl is a highly addictive opioid, and anyone can become addicted to it. However, you may have a higher risk of fentanyl addiction if you:
Have severe or chronic pain: Fentanyl is 80% more potent than morphine and is sometimes prescribed for severe or chronic pain. It's estimated that 63.4% of adults that misused prescription pain relievers did so to relieve pain.
Are low-income: Studies have shown correlations between fentanyl addiction and low-income households, especially those who have no health insurance or are on Medicaid.
Live in a rural community: Rural communities may lack access to adequate mental health services or have higher unemployment rates, resulting in a higher risk of opioid abuse.
Are an adolescent: Rates of opioid abuse among teens have risen in recent years. In 2019, adolescents made up 7.2% of opioid misuse in America.
Use illegal drugs: Fentanyl is commonly combined with illegal drugs, particularly heroin. Additionally, 80% of heroin users first abused prescription opioids.
While these risk factors may increase your likelihood of developing a fentanyl addiction, it's important to remember that risk factors don't guarantee you will become addicted, and that many protective factors may prevent you from developing a fentanyl addiction.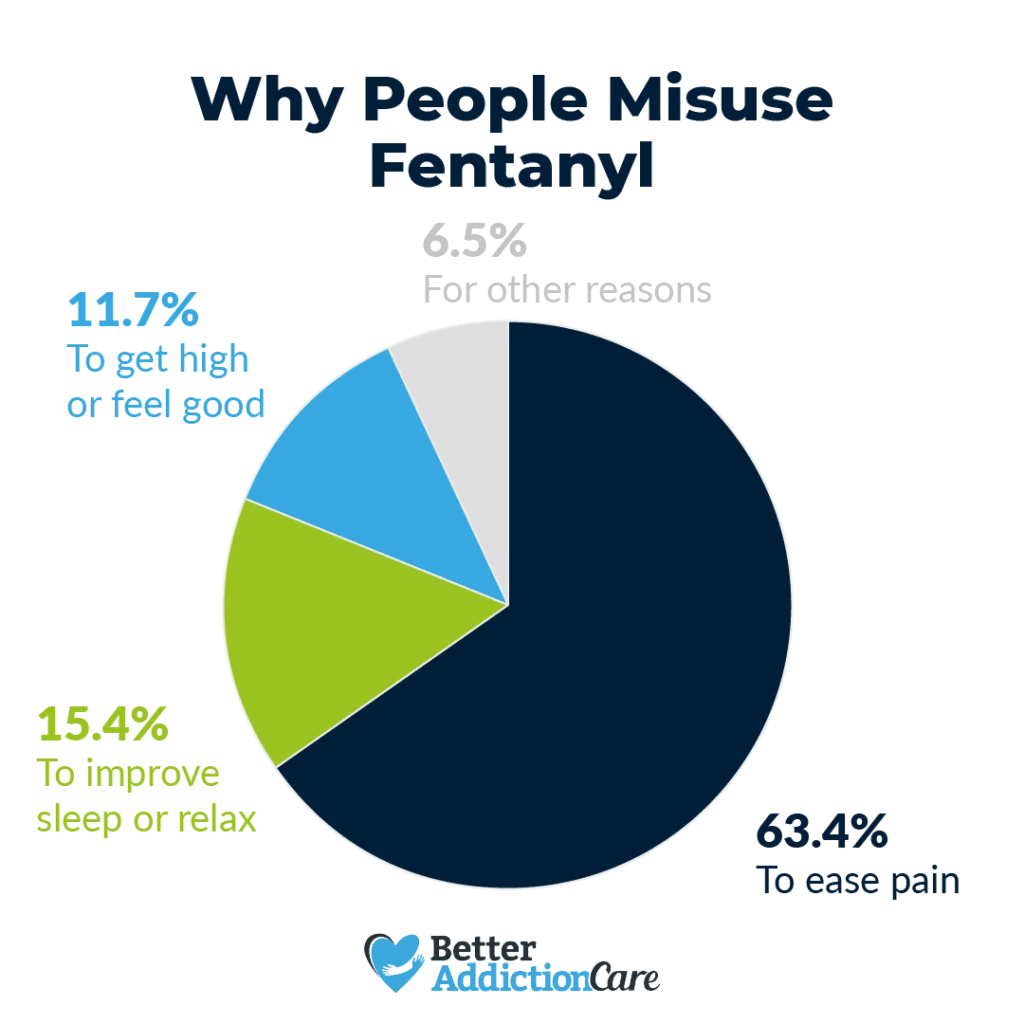 How to Treat Fentanyl Addiction
Fentanyl addiction is a chronic condition, but the good news is, it is treatable. A fentanyl addiction treatment can provide you with the relapse prevention and coping skills you need to obtain and maintain sobriety in the long run.
Medical Detox
The first step of fentanyl addiction treatment is medical detox. Medical detox is a medically supervised and controlled withdrawal from fentanyl. The fentanyl withdrawal process can produce uncomfortable symptoms, including:
Muscle aches
Tremors
Nausea and vomiting
Diarrhea
Mood swings
Hot and cold flashes
While fentanyl withdrawal symptoms are incredibly uncomfortable, they are not typically life-threatening, especially not under medical supervision. However, detox is only the first step to treating fentanyl addiction. It doesn't address the underlying issues that motivated fentanyl abuse in the first place. That's why attending an inpatient or outpatient fentanyl addiction treatment program is so essential—with the help of your treatment team, you can begin to make lasting changes.
Inpatient vs. Outpatient Fentanyl Treatment
Fentanyl addiction treatment occurs in two main settings: inpatient rehab and outpatient rehab.
At an inpatient treatment program, you reside at the facility for the duration of your treatment, where you will receive around-the-clock care. Inpatient treatment typically lasts anywhere from 30 to 90 days, although programs may be longer if necessary. These settings provide you with the structure and routine you need to ignore distractions and focus solely on your recovery. Therapeutic interventions for fentanyl addiction may include:
Psychotherapy
Group counseling
Family therapy
Support groups
Drug education classes
Relapse prevention classes
Medication-assisted treatment (with methadone or buprenorphine)
Outpatient programs do not include a residency at a treatment facility. These programs may be more suitable to you if you have extensive support from your friends and family, if you are employed, or have other obligations.12 Outpatient fentanyl addiction treatment programs are less expensive than inpatient treatment and include various levels of intensity, ranging from several hours per day, every day to a few hours per week. More intensive outpatient options include partial hospitalization programs (PHPs) and intensive outpatient programs (IOPs)—these programs provide you with more structure and care while still allowing you to return home in the evening.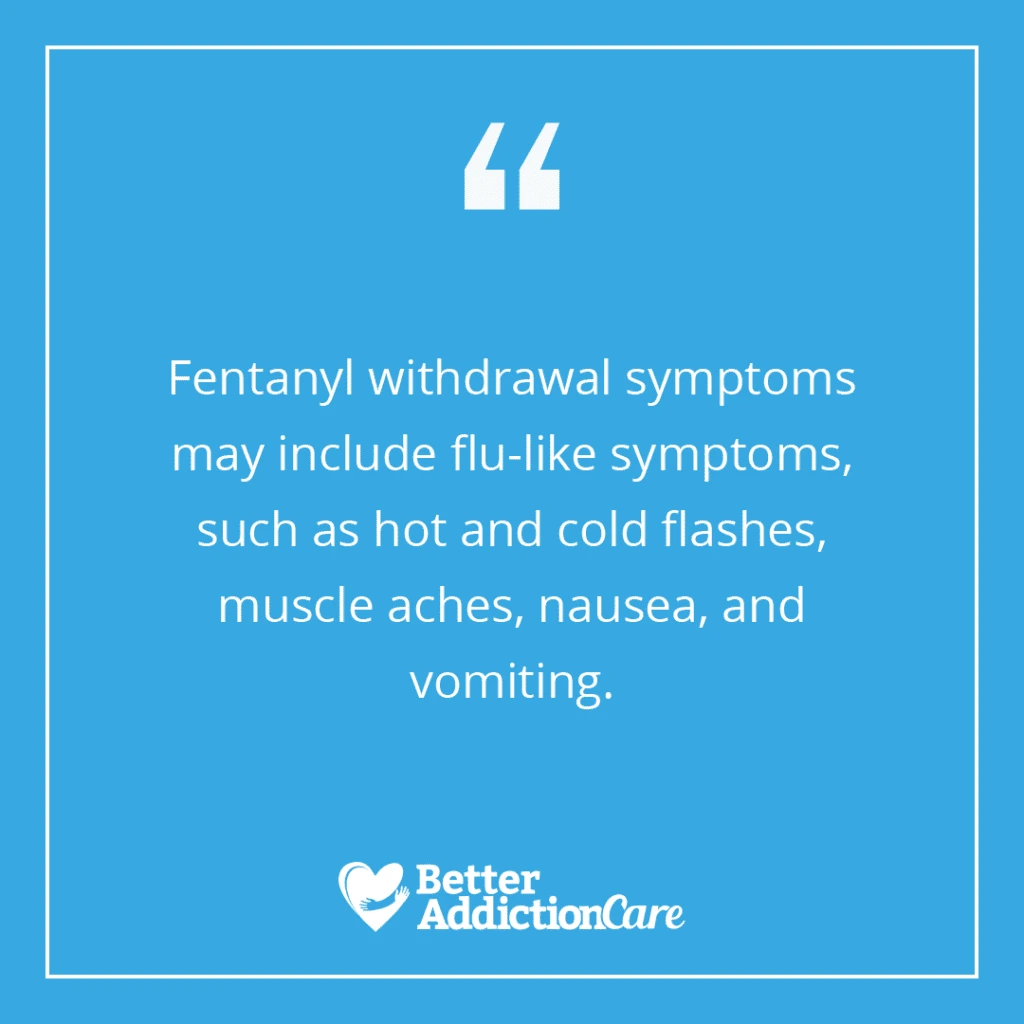 Aftercare and Ongoing Support
Once you complete your fentanyl addiction treatment program, your work isn't done. You will want to continue to build upon the skills you developed in rehab by attending aftercare services. Aftercare services provide you with ongoing support throughout your recovery journey and can help prevent relapse. Long-term support options include:
Step-down care: Transitioning from inpatient to a less intensive program, such as a PHP or IOP, helps reduce the risk of relapse.
Individual therapy: This will help you or your loved one to improve coping strategies to avoid the use of fentanyl. Additionally, counselors can help you connect with other ongoing support options, such as 12-step programs, and provide referrals for other medical services.
12-step programs: 12-step programs provides ongoing support following formal treatment programs.These programs provide structure and additional social support to further healthy lifestyle behaviors and maintain abstinence.The most prominent group following fentanyl addiction is Narcotics Anonymous (NA).
Sober living homes: This is a housing alternative following fentanyl addiction treatment that provides continued support as you transition toward living independently. This form of housing offers healthy and safe environments that can reduce the risk of relapse and connect you with additional supportive services.
UP NEXT
Part of Fentanyl Treatment