Whether injected, snorted, or smoked, heroin is a dangerous drug that is highly addictive. Regardless of the way heroin is used, it can have severe repercussions on the body and the mind. As an addict continues to seek out the immediate high the drug produces, they will experience heroin side effects that could be life-threatening.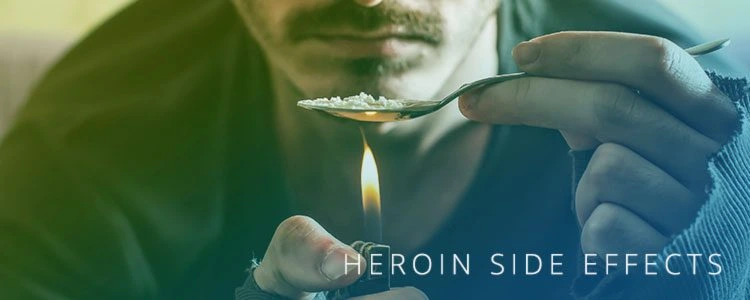 3 Minute Read
|
Published Jul 30 2023
|
Updated Oct 10 2023
The side effects of heroin can be scary for friends and family members to observe. Without help, many addicts permanently damage their bodies and their minds. BetterAddictionCare knows that it is imperative to get help now. We can find the right treatment programs nationwide or near you, depending on your needs. Alternative rehab programs are also available, with options to customize everything for the individual to ensure successful results. Call today to speak with a counselor to learn more about your options.
The long-term effects of heroin are severe. Addicts constantly looking for a high often abandon friends and family and destroy relationships as their priorities shift. Without the help of addiction counseling through high-quality treatment centers, the cycle could continue with devastating results.
Short-term side effects of heroin use include:
Nausea and/or vomiting
Flushed skin
Dry mouth
Itching
Clouded mental function
Slowed heart function
Slowed breathing
Long-term side effects include:
Increased tolerance to heroin
Difficulty making decisions
Inability to regulate behavior
Decreased brain function
Experiencing withdrawal symptoms more frequently
For someone struggling with addiction to heroin, long-term effects can still be treated with the help of a highly trained staff in a comfortable rehab center. Breaking free of the drug through medically assisted detox helps to mitigate the symptoms associated with withdrawal. Rehab centers help patients to deal with the heroin side effects, including the constant desire for the drug.
Once the side effects of heroin have subsided, patients need support as they learn to move forward without the drug and get back to living their life substance-free. After your treatment, BetterAddictionCare offers assistance through a recovery team located near you. This includes continued help with behavior modification and counseling in order to continue to heal. After taking heroin, long-term effects may continue to affect a patient, and it's important to seek out the right medical attention to help deal with these issues. If you are worried about an addiction to heroin, take our assessment to learn more about your options.
If you or someone you love is struggling with heroin abuse, fill out our contact form today. We can use our recovery network to find a facility near you currently accepting new patients. Our services are 100% confidential, and we can help coordinate everything from transportation to private insurance to help make this transition easier. Don't hesitate to get the help you need: Contact us now.
UP NEXT
Part of Heroin Treatment