In 1996, data showed that one out of every five teenagers in the United States had used inhalants. Today, the rates of inhalant drug abuse have dropped, but it remains a serious – and deadly – problem. Inhalants can be created from any aerosolized or gaseous home product, making them dangerously accessible and easy to underestimate. By learning to recognize the signs of inhalant abuse, parents, friends, and loved ones can help put an end to a possibly fatal addiction and encourage those they care about to seek addiction counseling and inhalant abuse treatment.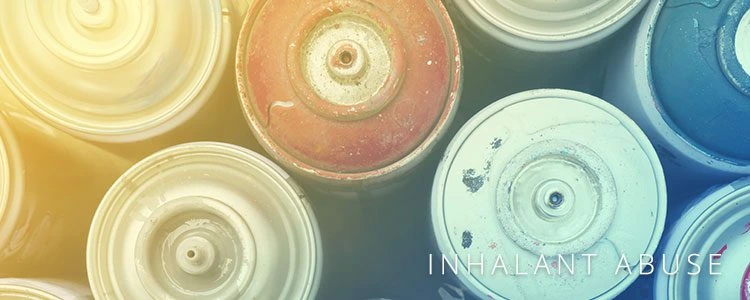 3 Minute Read
|
Published Jul 30 2023
|
Updated Oct 10 2023
Signs and Symptoms of Inhalant Abuse
There are readily observable behavioral changes which may point to the use of inhalants. Abuse will typically occur in secret, away from the eyes of family and friends, and so the user may constantly sneak away to maintain the brief high inhalants provide. They may also attempt to discreetly use in public, signaled by a frequent smelling of sleeves or of a marker or pen. Stains from the substance being abused, such as paint, may show up on the individual's clothing or fingers.
There are also physical signs of inhalant abuse. Many different chemicals are used in the manufacturing of inhalants. Abuse will, therefore, result in physical symptoms of these chemicals as they act on the body. Speech may be slurred, and residual odor from the substance may be present on the breath or clothing of the individual. Chemical abuse can cause red eyes, lesions around the mouth, and a sudden loss of appetite. The user may display signs of disorientation or behave as if they were drunk. As one of the more extreme symptoms of inhalant abuse, the user may suffer from seizures or sudden sniffing death syndrome (SSDS).
Inhalant Abuse Treatment: How it Works and How to Find It
In the case of immediate danger, as with SSDS, emergency medical services should be contacted as soon as possible. However, many cases of inhalant drug abuse may require more treatment than a short hospital stay. In an addiction recovery program, highly trained, professional staff will work with the individual to develop a better understanding of addictive behavior and what can be done to cope with stressful situations without turning to inhalants. Abuse for any length of time may have a physical effect on the body, and a rehab facility can help the individual detox from these substances in a safe and comfortable way.
BetterAddictionCare's nationwide recovery network includes some of the country's top alcohol and drug rehab programs. Our customized pre-screening assessment can help determine the best program match for you or a loved one, and our team of Client Care Specialists can assist with the coordination of transportation and private insurance requirements. The facilities in our network are always accepting new patients, and after the program concludes, we offer after-treatment support services to help you continue your recovery.
Inhalant drug abuse can have fatal consequences, so don't wait to seek treatment. Call today or fill out our contact form to get help now and find an addiction treatment center near you.
UP NEXT
Part of Inhalant Addiction